MV Wakashio Updates Mauritius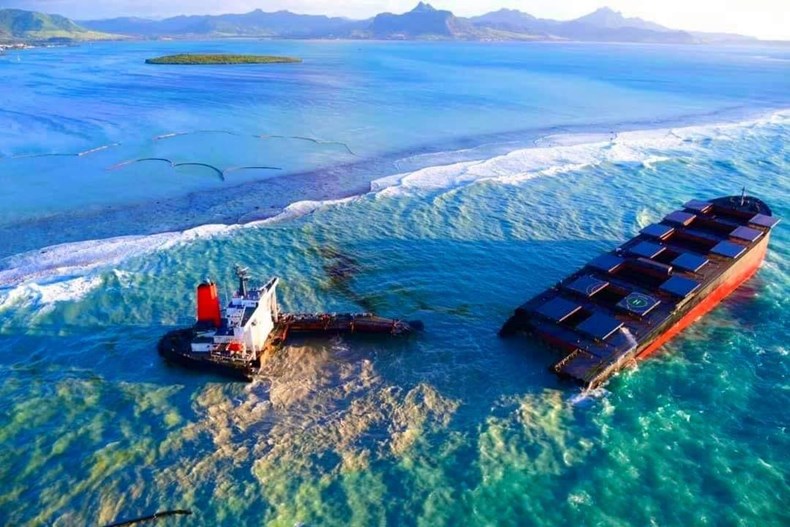 August 15, 2020 - As forecasted the Wakashio broke into two today. The rear section of the bulk carrier, still containing a relatively small amount of hydrocarbon, is immobilized on the reef. 40 cubic metres of fluid were pumped today with the remaining 50 cubic metres expected to be pumped out by tomorrow.
Authorities confirmed that there has been no further leak of hydrocarbon and that booms had already been deployed as part of measures taken to contain any spillage. Operations to clean up affected lagoons and shores, localized in parts of the south eastern region of the island, are ongoing and are being led by Mauritian authorities assisted by international experts. The local community is also still very much engaged in the process. 
August 13, 2020 - A more delicate operation is ongoing to remove the remaining hydrocarbon from the tanks of the Wakashio. The bulk carrier was emptied of most of its payload yesterday with only 150 cubic metres of hydraulic and lubricating fluid remaining. 20 Cubic metres are expected to be removed tonight and the remaining 130 cubic metres are expected to be removed by tomorrow, Friday 14 August.
Cleaning and decontamination efforts are also ongoing. 22 international experts mainly from France, Japan and the United Nations are assisting local teams. With the seas expected to be rough in the coming days, best efforts are being deployed to contain the spillage which is localized mainly in the south eastern region of the island. Lagoons and seashores in other parts of Mauritius are still pristine.
With most of the hydrocarbon emptied from the tanks of the Wakashio, risks of further spillage have been averted.