Matetsi Victoria Falls - Wonderful Wildlife Sightings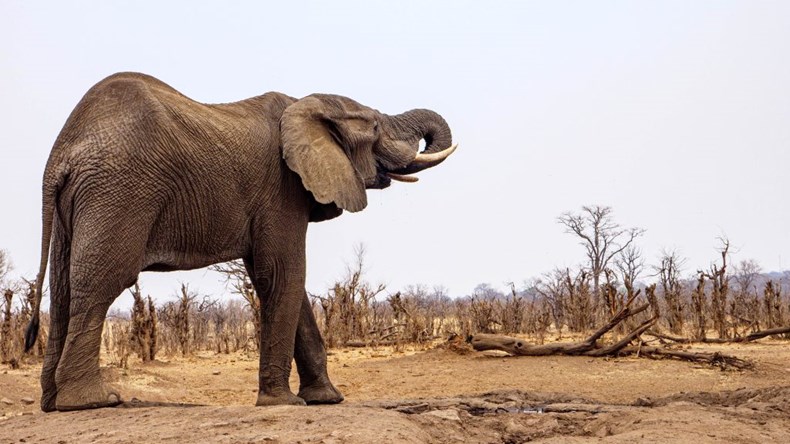 Matetsi Private Game Reserve is teeming with life and we are so happy to bring you the latest in our series of Wonderful Wildlife Sightings.
Starting with June where we were in the heart of the dry Winter season. This is one of the best seasons for game viewing, with crisp mornings under cloudless blue skies, when both humans and wildlife come out to warm themselves under the beautiful winter sun. Apart from wildlife, the bush really shows off at this time of year with the most remarkable colours in the foliage across Matetsi Private Game Reserve. Top sightings during June were numerous large breeding herds of elephants and buffalos. Our guides often say, follow the buffalo to find the lion (for obvious reasons) and this was evident  with plenty of lion activity across the concession. Possibly the sighting which captivated us most during June was the discovery of a wild dog den and five pups, which was such a blessing. Sightings of the usually elusive leopards continued to rise and have not stopped as you will read below.
The brutally cold mornings continued into July, but never fear when a Matetsi guide is near, armed with hot water bottles, blankets and of course, what would an early morning Winter game drive be without a "Rangers Coffee" (coffee doctored with a little tipple of Amarula for good measure). Once again the game viewing is superb, with the vegetation having thinned out even more and the animals visiting watering holes in their numbers. Our guides were excited to see a number of smaller antelope as well as sable and roan moving up from the southern boundary of the reserve. Lion activity was once again prolific with a number sighted in and around the lodge itself. Two sightings of aardvark had our guiding team very excited as it is a special sighting with signs of them often being more than sightings of the animals themselves. One should never forget the 366 species of birds that are present on Matetsi Private Game Reserve and this month records many interesting species being sighted.
During August the seasons shifted and we started feeling an increase in temperatures. The hippos and crocodiles felt it too and were seen sunning themselves on sandbanks just in front of the lodge. Senior Guide – Ophius Sibanda, reported sightings of 1000+ herds of elephants and shared this insight with us "This is a place where they feel safe, they are aware of our presence. It's all about whom they trust, and this is why they choose to stay with us. Out of camp we see thousands of these elephants per day, these are the herds that are coming from other areas being attracted by our conservation work that we do." Wildebeest remain resident on Westwood Vlei and the sightings of roan antelope also increased this month. Lions were once again sighted frequently and there was an increase in leopard sightings too, proving that they are becoming more habituated in the area.
In other parts of the Southern Hemisphere, typically September means Spring has sprung, our corner of the world does not follow this classic season change. We leap from a cold dry winter to hot dry summer and look to the skies in anticipation of the rains. Once again this makes for excellent game viewing as the animals seek out the waterholes to rehydrate and cool themselves. None more so than the multitude of breeding herds of elephant which continue to rise in numbers across Matetsi Private Game Reserve. Lion sightings were once again on the up with a very special sighting of a small pride with two young active cubs – approximately 3 months old. It is clearly the season for young animals as hyena's were also sighted with tiny pups. Highlight of the month was to see that a breeding herd of the specially protected  roan antelope had moved further north, sightings of them are rare and usually isolated more to the south of the property.
October brought the rains and new green shoots to the vegetation. Game viewing was still fantastic, with the elephants dispersing slightly due to the rains however we still saw multiple, large breeding herds of buffalo. The pride of lions with the two young cubs that we mentioned in the September sightings report, were seen often around Westwood Vlei. It's great to see them doing so well. Leopard sightings were once again remarkable, the most exciting of which was a mother with a young cub, that a few of our guests were so lucky to get a glimpse and a photo of (read the full report to see). Numerous sightings of zebra, impala, giraffe, to mention a few, were seen often across the property during October. More babies graced us with their presence this month, including a bush buck born at the West Camp boma and several of the cutest warthog piglets.
We feel truly blessed by the amazing return of wildlife that our team and of course our guests continue to see across Matetsi Private Game Reserve. Read more about our ongoing conservation efforts across the vast wilderness that is Matetsi Private Game Reserve which we have been entrusted to protect.