Just a Drop Spring Highlights 2020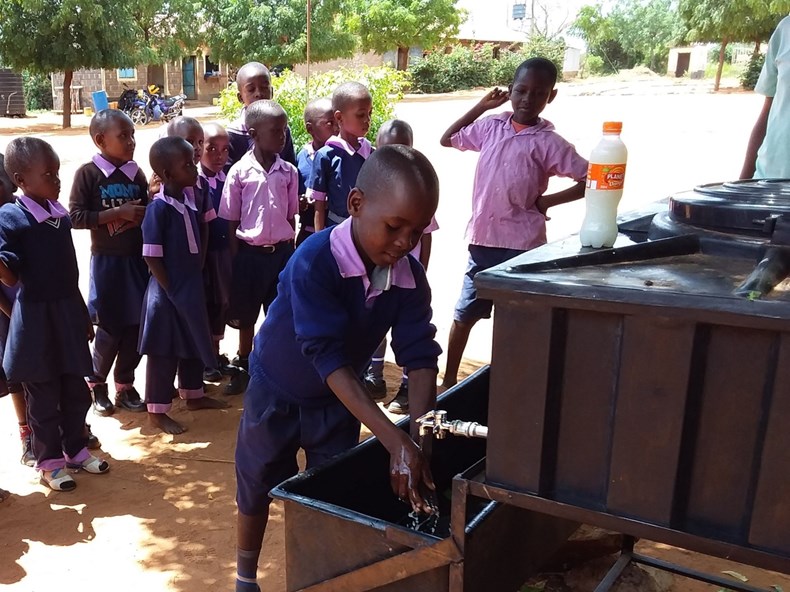 At Just a Drop, we believe that everyone has the right to safe water and handwashing facilities and now more than ever, it is important that we continue to support communities across Africa, Asia and Latin America.
You can read our Covid-19 message from our Founder and Chair, Fiona Jeffery OBE, here.​
We're pleased to be able to share Just a Drop's Spring Highlights. Despite the current challenges, we've been busy so far this year bringing safe water, sanitation and hygiene to communities around the world - all thanks to your support. From hygiene education and school water tanks in Kenya, to building a pump houses and piped systems in Nicaragua, to rain water harvesting and vital soap making lessons to communities across Uganda. We've included a few of our top highlights below:
The importance of hygiene is a continuous theme throughout all of our projects. Earlier this year, pupils at Mandove Primary School in Kenya were taught how to make soap and the importance of handwashing at critical times. This, and further WASH knowledge, will filter out to their families, benefitting the wider community. The importance of handwashing can never be overestimated. ​
Great progress has been made so far in our project at Hatillo, Nicaragua. 

​

All the tap stands have been installed at homes across the community, the local school and the church. The electricity will soon be connected to the pump house, giving the community access to safe water at home, transforming their lives!
We visited Nasse Primary School, Uganda, in February. The newly completed rainwater harvesting tank and WASH education will transform school life for the 417 children and 11 teachers, affording the school with access to clean water all year round and dedicated handwashing stations to maintain good hygiene practices.​
Life at Wakiso Health Centre, Uganda, has transformed now they have running water, latrines and a constant supply of soap, ensuring they are better equipped to deal with emergencies.​ Doctor Zirimalaand his team learnt how to make the soap for the Centre, and are able to make enough to sell to the local community and schools, further spreading the importance of handwashing with soap!​
6.5 million (41%) of people in Cambodiadon't have access to adequate sanitation. ​We have been working with KoukSrok village to construct 100 household latrines. ​We ask each household for support with construction to encourage ownership, continued maintenance and pride in their household latrine. ​
It has been 3 years since Los Guacimos in Nicaragua gained access to safe water in their homes. ​We are extremely pleased that the piped water system has been well looked after by the community and continues to bring water to 46 homes. Access to safe water not only improves health but also gives individuals the time back that they used to spend collecting water each day. ​
In Zzinga Health Centre, Uganda, we've constructed a new water tank and latrines which will have a massive impact on the delivery of essential health services!
We would just like to say thank you​ from all of us at Just a Drop and all of the communities who now have access to clean water, handwashing facilities and sanitation thanks to your generous support.​
Our work wouldn't be possible without you, and it has never been more critical!​
Make a difference today  by making a donation– clean hands save lives!​