Introducing Lemala Walking Safaris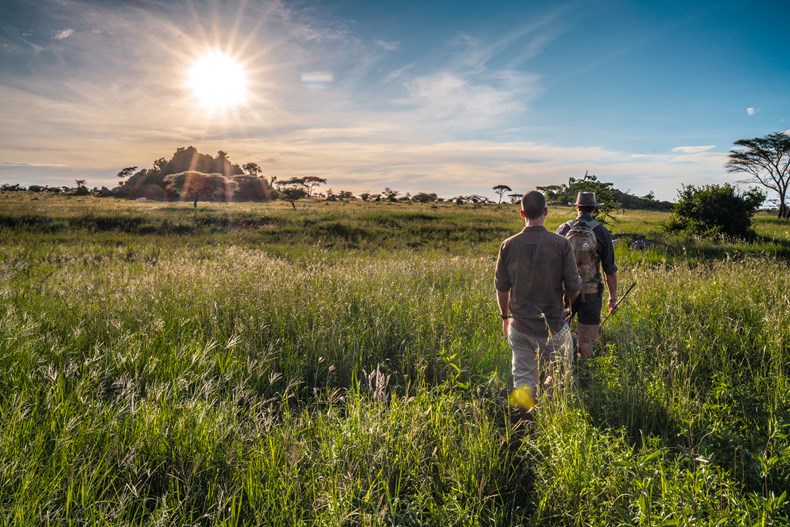 Lemala Camps and Lodges is proud to announce to intrepid adventurers and explorers that we now offer an immersive, wild and exclusive experience in Tanzania's renowned Serengeti National Park.
The Lemala Walking Safari offers guests the unique opportunity to explore the eastern plains of the Serengeti on foot -  an area previously set aside as a wilderness area for the scientific study of cheetah. Access to this wildlife-rich area – which hosts some of the highest densities of large mammals in the Serengeti due to its rich habitat diversity – is a rare and precious opportunity.
Lemala Walking Safaris are accompanied by an armed TANAPA ranger and led by a professional guide selected and trained by Lemala's Head of Guide Training, Andrea Pompele. Andrea is a fully qualified FGASA Lead Trail Guide with more than 600 hours walking experience and over 100 hours in the Serengeti ecosystems, along with an extensive academic background in Biology with specializations in ethology. This combination means those who participate in a Lemala Walking Safari gain insight into both the scientific and practical workings of our environment.  
Walking Safaris concentrate on the valleys behind Lemala Nanyukie where several massive Kopjes dominate the landscape, the Ngare Nanyuki River and several small seasonal gullies lead to the river provide reliable water sources year round where game congregates to drink and in turn attracts predators to the area. 
Generally walks start at or just after sun rise and are tailored to the guest activity levels and ambitions lasting from a gentle two up to a more rigorous six hour exploration. 
For more information on our Lemala Walking Safaris please contact our team on [email protected]