Hideaways Live Beyond the Lodge at Elephant's Eye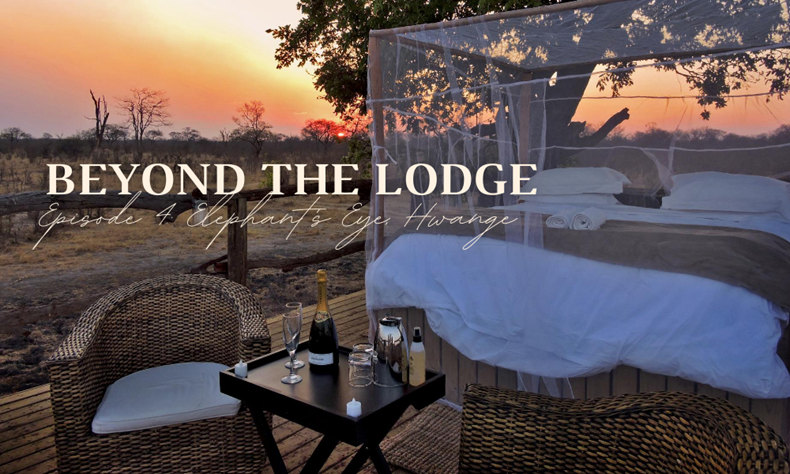 "A stay at Elephant's Eye, Hwange, is a combination of experiencing a legacy reserve, in massive luxury". John Maytham, Cape Talk Radio
Sign up for our fourth episode of Beyond the Lodge, focusing on Hideaways' conservation footprint, the passion and resourcefulness of the African people, and how to cultivate hope.
Hwange National Park imprints itself in one's memory. Being the largest nature reserve in Zimbabwe, it holds prolific biodiversity between its northern and southern borders. John Maytham, Cape Talk radio host, actor and wildlife enthusiast reflects on his experience of Hwange, initially in 1970, then 2013 – speaking into the vast and various landscapes, and wildlife opportunities within.
Hideaways' luxury eco-lodge Elephant's Eye, Hwange borders the National Park, set in a wildlife rich private concession. This location allows for easy access to the park, as well as the option for exclusive outings within the concession's perimeter. Director Garth Jenman and ex game ranger and now radio host (!!) John Maytham will discuss game-viewing opportunities, conservation and community initiatives and why change and hardshop can be positive for transformation in business, conservation initiatives and community engagement.
An advocate in supporting local, John will speak into the importance of how tourism affects those on the ground, and the respective conscious travel choices we can therefore make. 
Joining us along with CapeTalk's John Maytham is De Villiers Graaff from De Grendel Wine and Restaurant. He'll be speaking into the importance of furthering opportunities in education and creating partnerships which encourage such initiatives. Looking forward to seeing you all there!