Wilderness Safaris Donates 300 Food Hampers to Okavango Community Trust Villages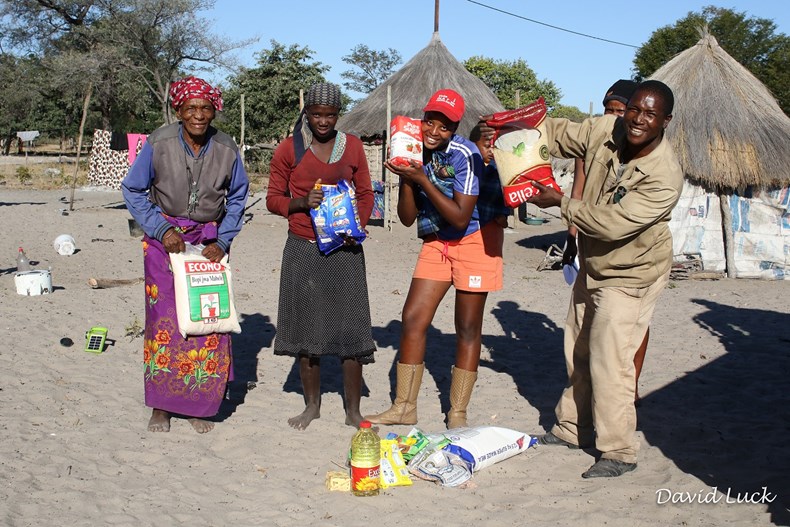 Wilderness Safaris, in collaboration with the Botswana government, community leaders and a handful of generous donors, continued to showcase its support to the people of Seronga, Gunotsoga, Eretsha, Beetsha and Gudigwa, by delivering over 300 food hampers to the villages last week. Facilitated by its long-term Vumbura Concession partners, the Okavango Community Trust (OCT), the handovers took place from 12-14 June, bringing extensive relief to the vulnerable families who are facing extreme food shortages and financial issues caused by the current COVID-19 pandemic.
Inspired by the work of the government during the country's lockdown, Wilderness Safaris embarked on an ambitious drive to assist communities where further needs were required. With facilitation provided by its community partners, the OCT village leadership, comprised of the village district council, Councillor Dikgosi, social workers and a COVID-19 committee, were consulted to identify the most vulnerable households.
"The handovers were emotional in each village Kgotla, and in Seronga extremely well received by the Assistant District Commissioner Mr Waloka, Kgosi Maeze Maeze and other government attendees. People were very happy and relief was palpable in many", notes Kim Nixon, Wilderness Safaris Botswana MD.
"We'd like to express our heartfelt gratitude to our donors from Germany and to Karin Fröhlich, German-based sales partner for Wilderness Safaris, who coordinated the fundraising of USD8 450 through her network of family, friends and colleagues at Lieb Management. This phenomenal donation provided the impetus for us to seek further assistance, which was met by Wilderness Safaris and Orezone Transport & Logistics (T & L). The retail value of this hamper donation amounted to more than P160 000 (which excludes related transport costs and staff costs, totalling a further P40 000)", he adds.
The logistics of delivering the hampers required specialised 4x4 trucks and drivers to get through the tough terrain, and Orezone T & L kindly donated the use of their trucks and drivers for this three-day round trip. Wilderness Safaris also sent in five vehicles to assist with food hamper distribution, under the guidance of the social worker for each village. Hampers were mostly delivered by hand by a member of the Wilderness Safaris team to people's homes.