Wilderness Rwanda's War on Waste: Re-Using, Reducing, Recycling - And Upcycling!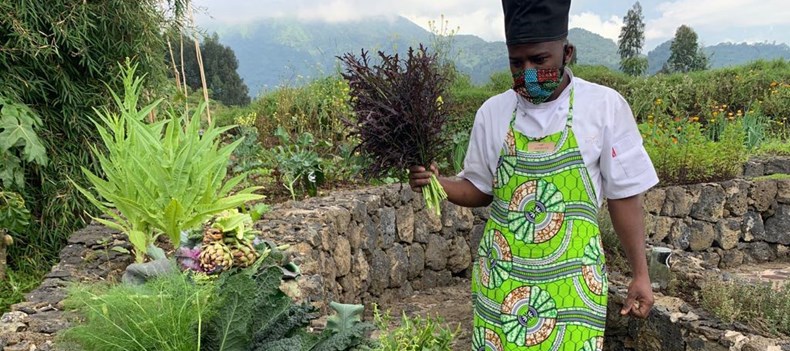 In an ongoing drive to minimise waste, Wilderness Safaris Rwanda, together with local communities and businesses, has developed novel ways to tackle waste at Magashi in Akagera and Bisate Lodge near Volcanoes National Park. With the dining experience already centred around locally sourced produce, new opportunities have also developed through Wilderness Safaris' War on Waste impact strategy.
Fresh supplies for the kitchen are picked straight from the camps' own vegetable gardens, which significantly reduces waste, given they pick only what is needed, and the remaining produce stays fresh in the garden for later use. Ordering and usage is controlled to avoid wastage of usable food items. Supplies are delivered in loosely packed crates, rather than bags, and soft drinks and mineral water are bottled in glass and not in plastic, with empties returned in the crates and used for new orders.
Any organic waste at Bisate is composted for use in the vegetable gardens and reforestation nursery, while the non-compostable organic waste is used by the neighbouring pig farmers. Only compostable packaging is used in the lunch packs guests receive on activities, including while gorilla trekking. These are collected daily by the Bisate team for the compost heap. As Magashi is located within Akagera National Park, organic waste must be disposed of outside of the Park. Neighbouring communities receive the organic matter and compost it, or use it as cattle feed.
With a country-wide ban on single use plastics in Rwanda since 2008, Wilderness has worked successfully with local communities to provide sustainable alternatives. Instead of cling wrap, Bisate and Magashi use locally produced re-usable kitenge beeswax wraps (produced by Bee Light) to wrap and package the food in their kitchens. Glass bottles from Magashi and Bisate are re-used in different ways. Some are used in the gardens, while others are sent to PIMA who in turn send them to Bee Light to be upcycled as candle holders and vases, which are sold to guests in the camp boutiques. Drinks cartons are repurposed by Kandaka Naturals, who make organic soap, as soap packaging. Bigger 5 litre and 20 litre plastic containers are useful in the communities for transporting and storing drinking water and grain, and are donated to the community