What's in a name - introducing Camp Sossus & our Star Beds!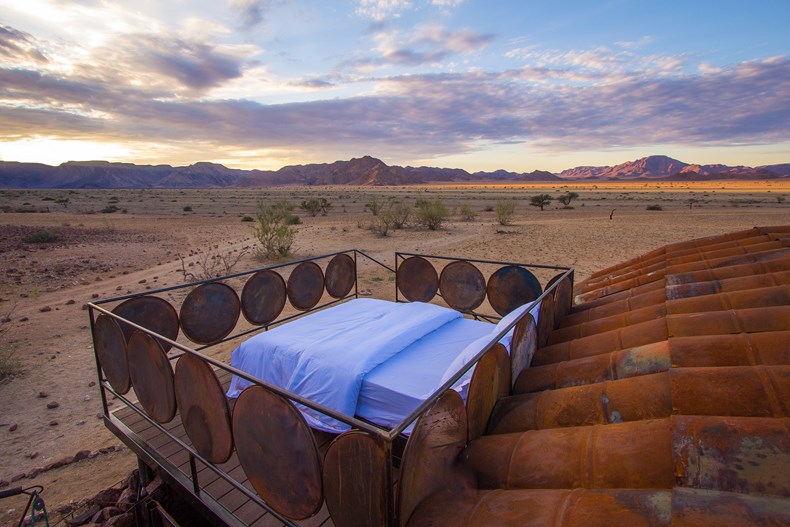 As is the case with all living organisms, evolution is a fact of life. Whilst not a living organism, life at SOSSUS UNDER CANVAS has still been one of transformation and evolution, growing and adapting to the desert conditions, and ensuring that Ultimate Safaris continues to offer a life enriching Sossusvlei experience.

The past months have seen some significant changes at our camp and we believe these justify renaming it. The philosophy of our tented camps remains unchanged, in that they offer a truly sustainable "back to nature" experience, allowing guests to touch, smell, feel and experience the wild but with their feet still firmly in the dust that covers Namibia. This ultimate connection with earth in a very up-close and personal way gives an experience that is exclusive and far away from the pressures of 'normal' life!
Updates and introduction to CAMP SOSSUS!
1.The mobile tents have all been replaced with state-of-the-art all-weather tented rooms, each now with 220V power.
2. The common areas now include gas fireplaces for those colder winter nights, and an artisan coffee station with our own CAMP SOSSUS blend.
3. CAMP SOSSUS will be open all year apart from an annual routine maintenance period (15th January – 15th February.)
4. We have introduced guided biking excursions on the Reserve
5. Don't forget our desert pools for great cool-down sessions in the warmer months.
6. However, the development that excites us the most at CAMP SOSSUS is the introduction of our STAR BEDS which are built on a deck above the bathroom at each guest tent and supplied with their own linen so there is no need to take the bed linen from inside the tents.