Ultimate Safaris launched ONDULI RIDGE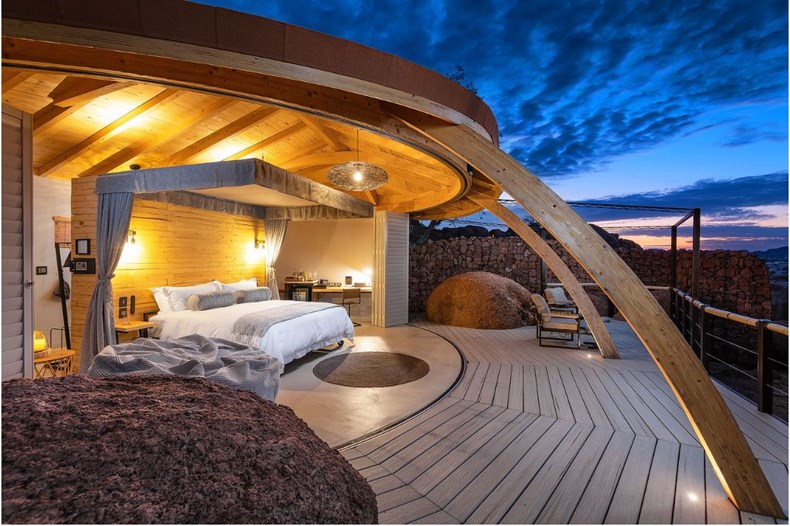 Ultimate Safaris is known for pioneering safaris in Namibia. Driven by an enthusiasm to explore and a determination to provide a great service in extreme locations, we started by operating relatively lightweight mobile camps in impossibly remote corners of Namibia more than 20 years ago. We then moved on to wanting to help preserve some of these wild places that had captured our hearts and our imagination and this meant we became more permanent guests than temporary visitors. Our presence began to contribute significantly to ensuring the preservation and conservation of these wonderful areas in which we have the privilege of operating, so much so that our models of revenue sharing with land custodians are today being considered the new benchmark in Namibia.
 
We then began, in a way, to redefine luxury and focus on what the crux of a Namibian safari should be. One seasonal tented camp (//Huab Under Canvas) quickly became two (Camp Sossus), and we then began extending our portfolio into the world of ultimate exclusivity and luxury. Our own definition encompassed privacy, exclusivity, experiential focus and total flexibility. In 2018 we introduced the travel world to The Nest @ Sossus, which has become a trend-setting multiple international award winning private villa in the Sossusvlei area.  

Some of our establishments now rank amongst the most extraordinary in Africa in terms of sustainability, quality, design and décor, whilst still remaining focussed on re-investing revenues into conservation. Guests are immersed in picturesque landscapes whilst being hosted on an exclusive, all-inclusive basis by members of the finest handpicked tribe of Journey Magicians in Namibia. Discerning, sophisticated, and discretely competent management is complimented by some of Namibia's best naturalist guides and award-winning gourmet chefs. Guests are cared for with an absolute focus on personal attention, complimenting an overall product of the finest quality, and benchmarking a new level of hospitality at iconic and exclusive destinations in Namibia.

We began planning our next venture, Onduli Ridge in Damaraland, in 2019. As with The Nest @ Sossus and our other two camps, we wanted to create something that stood out from the rest and that was fundamentally different to anything the Namibian travel industry had seen before. Nothing about this project was normal, and the planning for Onduli Ridge was undertaken with the intentional absence of engineers, architects and interior decorators, allowing nature and its boundaries to determine this camp's eventual outcome. Building commenced in early 2020 and, with the onset of Covid-19 only two months into the build, both the viability and the purpose of this project were thrown into disarray. Subsequent local lockdowns and massive disruptions to all supply chains meant that we were forced to board up the building site and patiently wait for direction as the world came to terms with the catastrophic situation. It felt like our dream could be shattered, and with that came the prospect of losing a lifetime's work for many in our industry as well as all the livelihoods that Conservation Travel supports. A time of reflection and introspection followed, but it didn't take that long to conclude that the work on Onduli Ridge should continue as soon as possible once local lockdowns were lifted. We had a commitment to the land custodians, a rural community dedicated to conservation and largely supported in this by tourism; a commitment to our own tribe at Ultimate Safaris; and, ultimately, a commitment to Namibia! We took those commitments very seriously and set about our work to ensure this remarkable project, which had also turned into something of a resilience project, was completed and waiting ready when the world returned to travel. 

It is with that in mind, that we are delighted to introduce ONDULI RIDGE!
More info on link/newsletter below
https://mailchi.mp/7b0079a9e496/introducing-onduli-ridge?e=d1f7838411