Time + Tide Kakuli Camp Reborn (Zambia)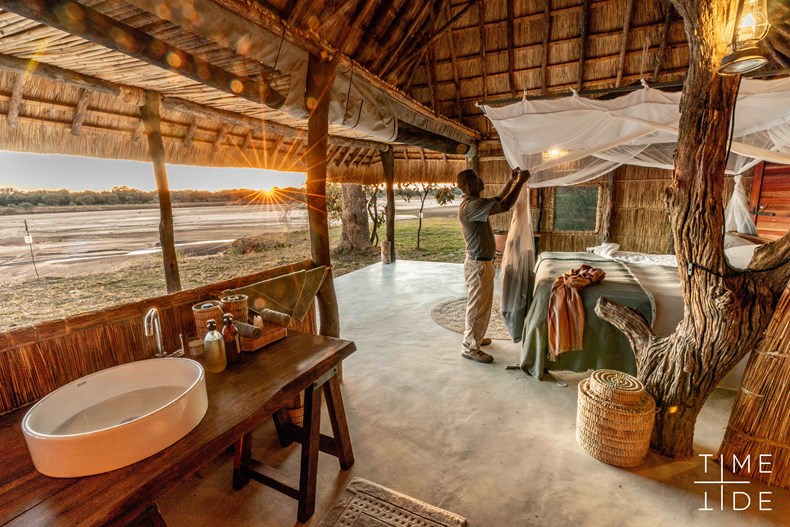 The all new Time + Tide Kakuli Camp in South Luangwa National Park, Zambia
Reopened in June 2018, Time + Tide Kakuli has received a total redesign and recreation of the suites and main area. The old-style tents have been replaced with beautiful new thatch and gauze suites that take full advantage of the panoramic river views offered by the camp's lofty perch. Much more spacious than the previous layout, every suite gives you a sanctuary all your own, so you can unwind and relax into the tranquillity of the bush. With a long and low profile, the view shines through to every corner of the suites, allowing you to fully immerse into the experience.
As Time + Tide Kakuli is used for our Rivers + Rainbows green season journey, the suites have been designed for year round comfort, offering shade and airflow in the hot winter months and a cosy hideaway from the occasional thunderstorms of the green season. The suites now feature both indoors and outdoors showers, so you can take a refreshing shower no matter the weather! To be able to enjoy a refreshing shower under the Zambian sun or the starry skies is a very special experience. The couch is also strategically placed on the covered porch so you can sit with a good book and watch the African rain come down during the green season. 
Perhaps our favourite part of the renovation is the addition of a wildlife hide directly under the main deck. What was once unused space is now a cosy hide complete with a comfy couch and prime views of the wildlife that stop by the Kakuli waterhole. Among the visitors we've had are elephants, buffalo, puku, impala and even the odd giraffe! This is the perfect place for guests who just can't get enough wildlife to hang out between their activities.
For more information, email Mindy: [email protected] or visit www.timeandtideafrica.com