There Is Only One Way To Fly: Safe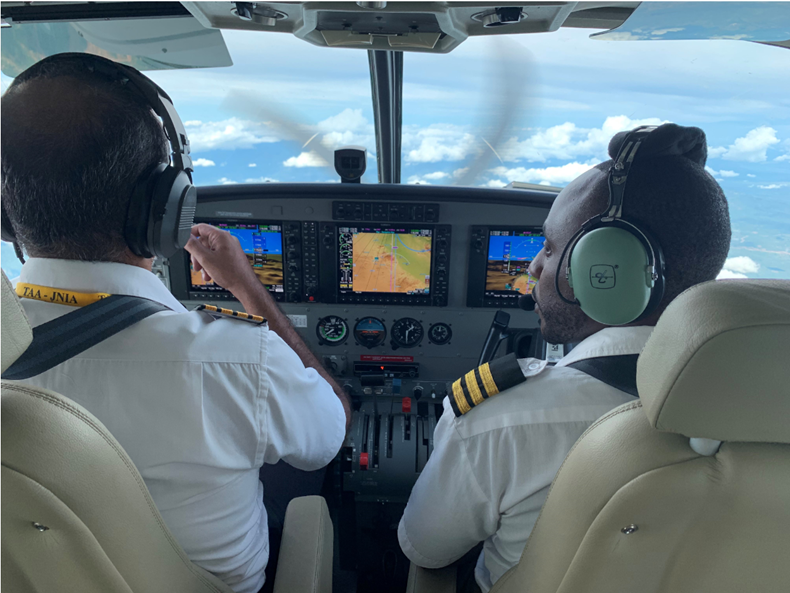 Air travel is deemed the safest way to travel, but now and then do you stop to think how much work goes behind ensuring this remains an active reality? Successfully arriving at your destination of choice is a culmination of several behind the scenes procedures and considerations to make sure your flight is not only safe and comfortable but hopefully positively memorable. And that too is Coastal Aviation's aspiration.
At Coastal aviation, we have made it our business to uphold and maintain our standards and safety culture across all facets of our business. Our fit for purpose fleet of aircraft that is expertly-adapted to the African safari environment is subjected to regular maintenance procedures and inspection schedules, with uncompromised compliance to internationally-certified standards, strict internal, external and regulatory audits. Coastal Aviation has its own hangars in Dar es Salaam and Moshi, with extensive facilities for our skilled and experienced engineers to take care of our birds. Regular check-ups are by far a religion to us.
Our pilots adhere to the multi­ crew coordination (MCC) philosophy. Not just two individuals pilots in the cockpit, but two pilots rigorously trained and assessed to meet exacting standards of team working and cooperation to work as a team in the cockpit to promote safety. With their extensive training and flying experience, the crew members on board not only draw resources from one another but also engineers on the ground, dispatchers and every other ground staff at the airports and airstrips we operate to. The actual goal is to make your flight as stress free as you envisioned. And that is the culmination of a team of professionals working hard to ensure your safety.
It doesn't stop at take off, our zeal to promote and maintain our ever-increasing safety standards also involves collecting feedback from multiple sources, including our internal reporting, external feedback from customers and other operators, to bring our teams to task. Safety, just like quality, should not be compromised.
At our core, our mission is simply to transport guests to their destination in accordance with the prearranged itinerary, with their safety and comfortability being top of mind. Thorough execution of this mission over the years has involved and continues to involve our dedicated professionals and innovative technology, taking pride in delivering our passengers safely over long distances, managing the operational dilemmas to take you safely off the beaten track. 
Making your travel an amazing experience is our raison d'être. At Coastal, 'Safari Njema' is not just a wish but a promise. 
Visit www.coastal.co.tz and join the "flying safari" travelers.