The Safari Store sketching and product testing on the Zambezi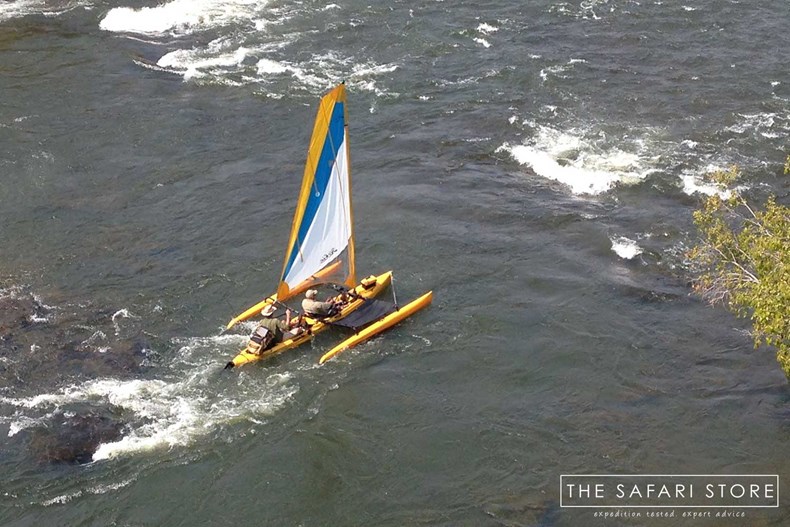 At The Safari Store, expedition testing is a fundamental part of our quality assurance to our clients. In often tough conditions, we sample, test, refine, and re-test our products and technologies in order to guarantee the efficacy, comfort, and performance of our gear. Founder of The Safari Store, Steve Adams, and artist-explorer Brent Dodd set out to test gear and sketch one of Africa's most iconic rivers, sailing the legendary Zambezi on a Hobie.
The pair sought to link Victoria Falls with Ngonye Falls, sketching, sailing and paddling this scenic section of the Zambezi. This unforgettable stretch of river in Zambia created the perfect setting for product testing – daring rapids and portaging along the mostly sandy banks in some classic African conditions.
A number of products were being tested; primarily our BUGTech insect protective fabric. We wanted to be sure that the insect protection didn't affect the wicking properties of the fabric. Off the back of this expedition, this fabric is now used across our Mara&Meru and Rufiji clothing ranges. African travel demands effective sun protection and our hats, SafariSUN sunscreen, and sunglasses were put to the test on this exciting river adventure and the team were also very happy with their performance.
To read the full Zambezi expedition story, with artist videos, maps, and pictures – and to shop the Zambezi Expedition products – visit https://www.thesafaristore.com/en/safari-stories/zambezi-river-expedition
The Safari Store is also offering 15% off Rufiji and Mara&Meru products used on the expedition for a limited time. E-mail [email protected] for the promo code.