The Gambia adds two more gems to the crown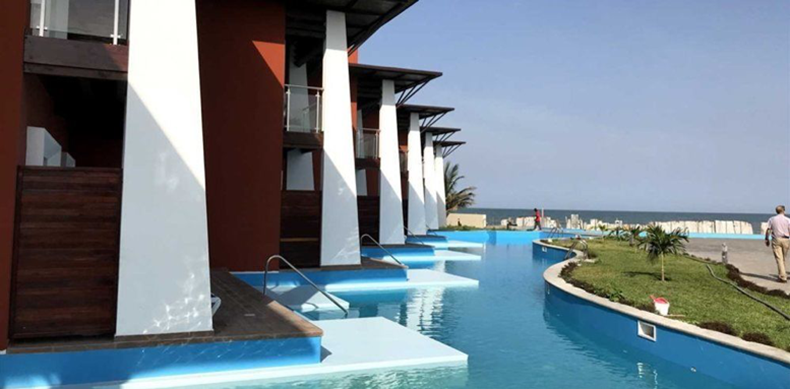 The tropical holiday paradise of The Gambia, known in tourism circles as
The Smiling Coast of Africa, is continuing to expand and improve its tourism infrastructure with the help of two leading UK tour operators, together with other investors.
At the beginning of the year,  the tropical paradise opened two new splendid beach hotels which will not only increase bed capacity but will also raise the bar as far as standard and service are concerned.
The new facilities are both located on the white sandy shores of the Atlantic, on Kotu Beach in the heart of the main resort area.
The first is a four star facility with 140 rooms in the first phase with potential for growth to 350 rooms. Nineteen of the rooms are Seaview premium with private pool access and the remainder are all premium rooms. 
The multi-million pound facility was wholly funded by Gambian promoters with support from a local bank.
This facility  has an exotic spa, two restaurants and bars, a fully equipped gym and a fitness studio, a mini-market and a beach club.  It has also provided  employment for 180 Gambians.
The second new hotel  was built with funding from a Gambian businessman  and his partners.  The four-star facility has 140 rooms and a villa
Built at a cost of about USD$10 million, the hotel  combines modern décor with an African-style design has been described by guests as "one of the finest hotels in West Africa both in terms of facilities and service".
There is also a third but smaller built by Gambian entrepreneur. The beautiful hotel located close to Palma Rima beach has 70 large rooms and 2 apartments with balconies and each equipped with 47" flat screen Smart TVs, a mini fridge, in-room safe, and a remote controlled air conditioner.
Another UK tour operator that has invested in The Gambia's hotel infrastructure. In 2003, the operator  took over a former Novotel facility, and have invested heavily over the years to enhance and improve its facilities. 
The 258-room hotel  is also located on Kotu Beach and offers European standards to its mainly European clientele.  The 3.5 star hotel has 80 superior and Premium rooms as well as 8 family rooms.   The Kombo offers jobs to 250 Gambians.