The Africa Hub | NEW features… and FREE ACCESS for December!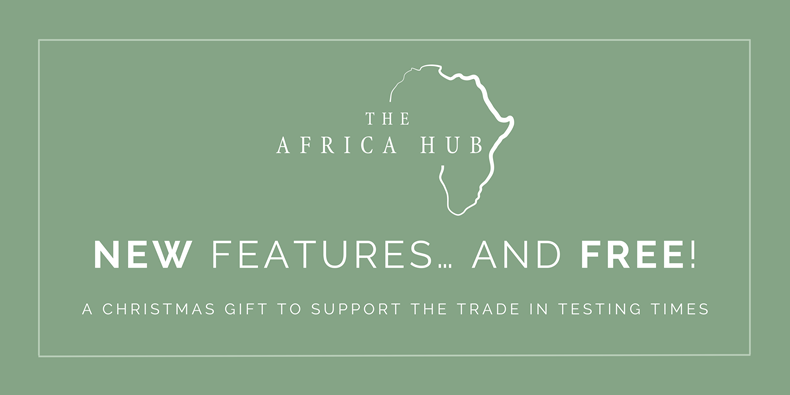 A Christmas gift to support the trade in testing times.
The Africa Hub has always been grounded in a desire to support the industry and, given the latest twist in the dreadful Covid news, the entire resource is today being opened for free throughout the month of December*.
This entails full access to its 21 destinations, comprising comprehensive and authoritative in-depth content on popular countries such as Kenya and Botswana to less familiar destinations like Congo and Ethiopia.
The Africa Hub is also launching 2 NEW features:
1. Marketing Toolbox
In response to feedback from Tour Operators that social media can fall to the bottom of the 'to do' list, The Africa Hub is launching its new Marketing Support Toolbox with a Social Media Image-bank, enabling users to circumvent time-intensive image research:
Nearly 100 ready-to-use images – optimised and sized for social media use
Suggested captions for personalisation
Hashtags & related @handles
Sourced from a large range of resources – all copyright approved
2. When to go
A month-by-month guide of what to see, when to go, where's best to go when. Comprehensive information comprises temperature & rainfall, seasonal ranking (out of 5), game highlights, travel experience and expert insider tips. Users can filter by month, or by destination. It launches with three destinations live with others rolled out between now and Christmas.
Founder, Anita Powell commented:
"Since Thursday night we have gone through emotions of disbelief, anger, sadness but above all overwhelming determination that we must do what we can to help our beloved industry weather this storm. We hope this small gesture of free access helps arm sales teams with the power and confidence to sell, sell, sell." 
*existing subscribers will receive 1 extra month free
Register HERE or log in to your account at The Africa Hub today!