Serengeti Balloon Safaris Complete World First Trans-Serengeti Ballooning Expedition With Kate Humble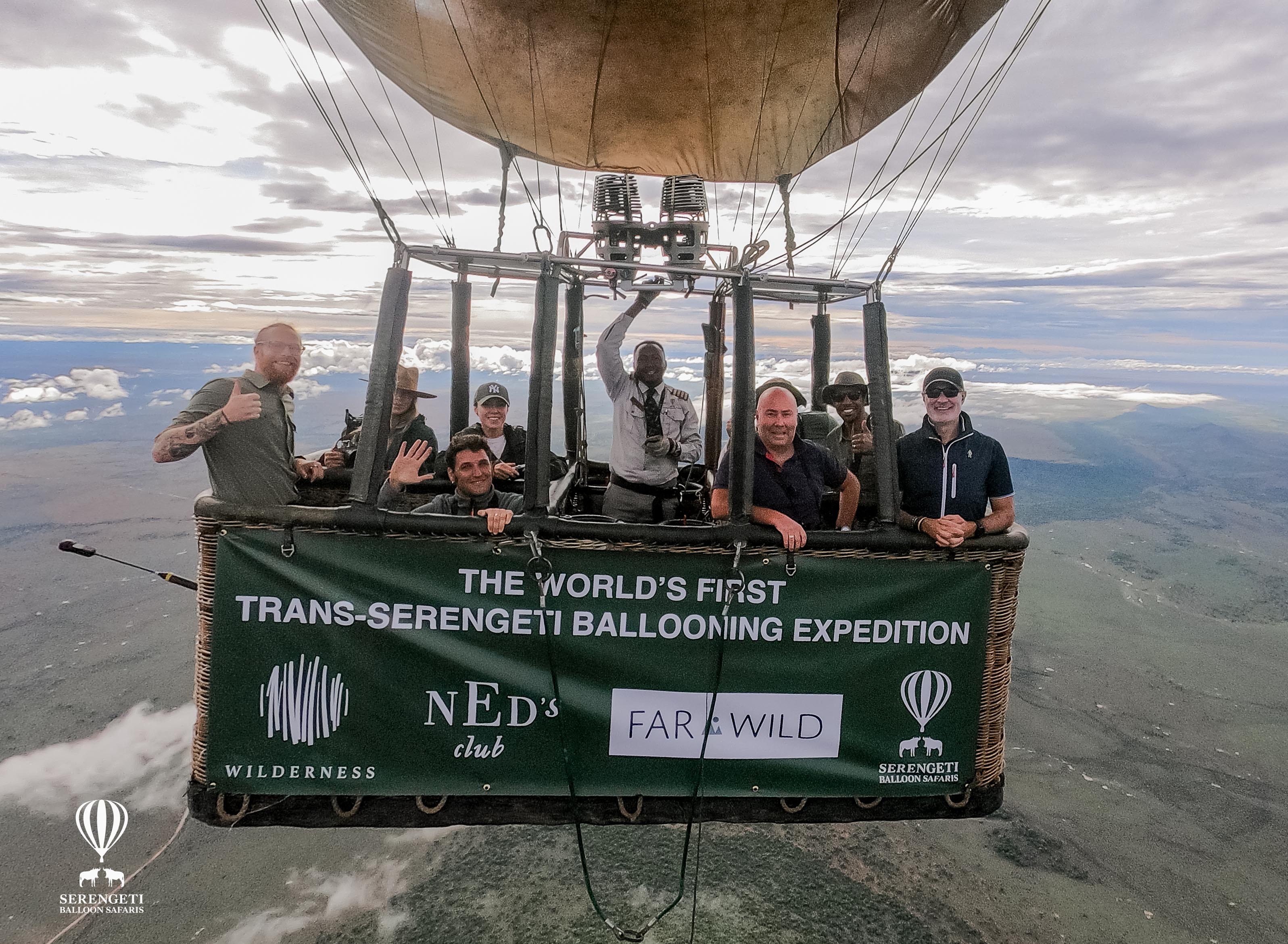 143 kilometres - 7 days - 5 balloon flights - 1 world first expedition
On 7th November 2023 an expert crew from Serengeti Balloon Safaris completed a world first expedition to traverse the entire Serengeti from East to West by hot air balloon. This unique adventure was joined by the acclaimed TV presenter and conservationist Kate Humble along with a select few clients.
On 1st November 2023 the expedition team arrived in the Serengeti where they departed from Central Serengeti's Gol Kopjes and then, over 5 consecutive days, they flew westwards before landing on a football pitch in a remote village on the shores of Lake Victoria. Here, the community had never seen the spectacle of a hot air balloon so as you can imagine their reception was incredible! Each morning the team flew for c. 2 hours in order to make the distance and complete the journey in time. The team made the most of the steady morning weather conditions taking off just before dawn and then enjoying the magical Serengeti landscape from the air, traversing over unseen areas and hidden corners of wilderness. On landing each day the team were joined by the Wayo Africa expert walking guides as they continued on foot to their mobile Wayo fly camps which moved daily along with the expedition team.
Due to exceedingly high rainfall on their penultimate day, the team were forced backwards and so needed to extend the planned expedition by one day in order to allow them to complete the journey and land on the shores of Lake Victoria. Such are the challenges of being entirely reliant on weather.
This light footprint adventure offered a totally unique perspective of this famous park, and the team were also able to meet with resident conservationists and scientists on the way who are without doubt the modern heroes of this fabled land.
The team were joined by friend of Serengeti Balloon Safaris Kate Humble who, along with her award-winning filmmaker husband, captured the magic of this adventure on camera for a future TV commission.
A select number of paying clients also joined the expedition which partnered with Far & Wild Travel, Aardvark Safaris and sabbatical travel company LiNGER.
This expedition was effectively a test flight for Serengeti Balloon Safaris who are looking to expand their ballooning 'journey's' into 2024 with the launch of a repeat trans-Serengeti journey planned for October 2024.
John Corse, MD of Serengeti Balloon Safaris commented;
"On behalf of all of the Serengeti Balloon Safaris team, we are thrilled with the result from this first trans-Serengeti test flight. It fulfilled a long-term dream of mine to traverse the entire Serengeti ecosystem by air and I have to say the experience was second to none. The feeling of adventure combined with the total peace and tranquillity of multiple balloon flights was incredibly special. We look forward to sharing this experience with others in the future."
Visit Serengeti Balloon Safari's Instagram feed for videos and more.
For more information contact Charlie at Green Travel Marketing http://[email protected]