Saruni Low-Down on Reteti Elephant Sanctuary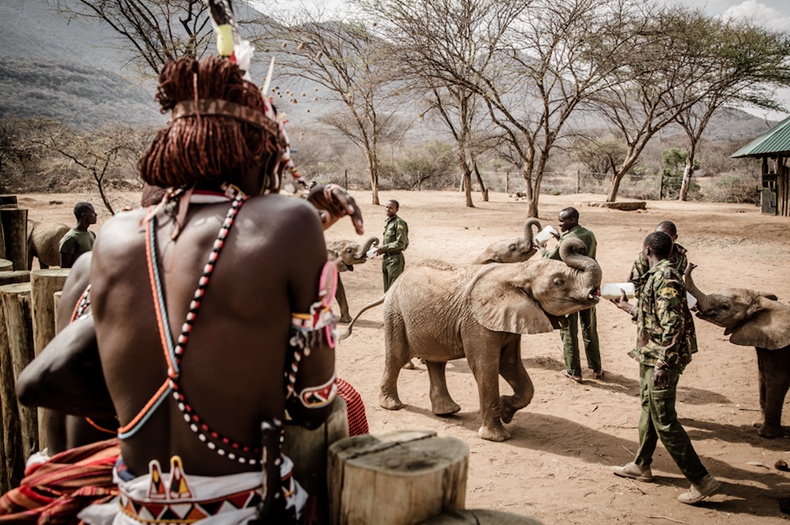 Located in nearby Namunyak Conservancy in Northern Kenya, guests staying at both Saruni Samburu or Saruni Rhino can easily visit the Reteti Elephant Sanctuary – a pleasant half-day excursion away in The Northern Express.
Not only an incredible addition to any Saruni safari but one of the best ways to safeguard the wildlife in the area, as well as supporting the local community dedicated to protecting them. Guests get the chance to witness feeding and playtime at the Sanctuary, as well as an in-depth look behind the scenes.
WHY VISIT RETETI?
Responsible tourism: First community-owned/run Sanctuary for abandoned or orphaned elephants and other wildlife;
Immersive experience: In-depth briefing and a behind-the-scenes look at what goes into caring for the 'residents';
Exclusive encounters: Small maximum visitors' size means an intimate, up-close-and-personal visit;
Female Empowerment: Pioneering women elephant keepers in conservation & community-tourism;
Direct contribution to conservation: All entry fees into the Sanctuary go to protecting those that need it most – the animals;
Territorial release programme: Animals released back into the same wilderness from which they were rescued, increasing chances of herd reunion and maintaining wildlife levels in the northern eco-system
Want to know a little more? Look no further! We've got all you need to know and more right here. Download our detailed 'Reteti Sanctuary Information' sheet HERE and understand how it all works in our fun 'My Visit to Reteti' blog HERE. Sanctuary visits are payable extra and bookable in advance – simply contact our Reservations team on [email protected].