Samara Private Game Reserve salutes the Spekboom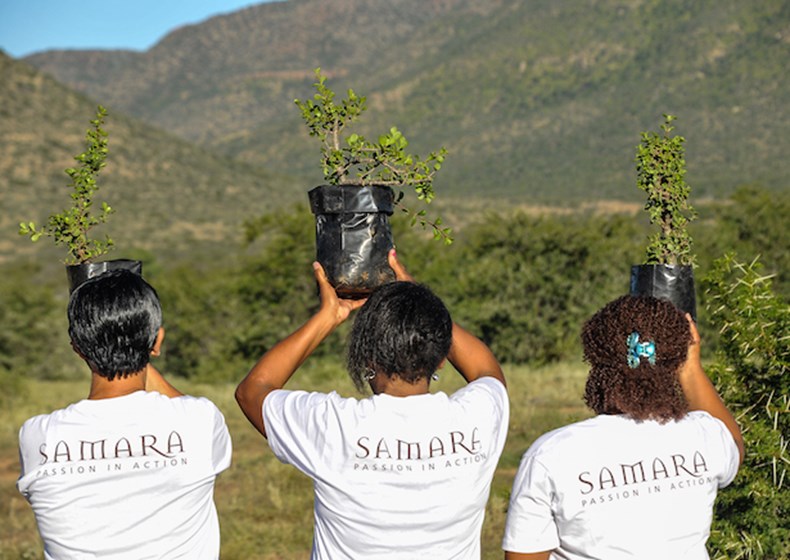 Samara Private Game Reserve is leveraging a Spekboom reforestation project to encourage collaborative conservation, providing a platform for guests to play a role in the reserve's initiatives and creating lasting memories in the process.
Samara's Isabelle Tompkins explains that the reserve's most recent endeavours focus on Spekboom, in an effort to rejuvenate the mountain slopes which were once covered with this species. "The area used to be covered in Spekboom so thick that, at one point, a human could walk across the treetops – the leaves and branches were so dense they formed a carpet. However, overgrazing by livestock has decimated these forests, creating soil erosion and compromising soil quality," Isabelle informs.
She adds that replanting the area will have tremendous benefits for the environment. "Spekboom is quite a remarkable plant. It is indigenous to semi-arid areas like Samara, although it has genetic origins in rainforests. Spekboom is highly effective at carbon sequestration (absorbing carbon dioxide from the atmosphere and storing it underground). It also binds soil to prevent erosion. It's an excellent food source for game like elephant, kudu and eland – and it tastes rather nice in a salad, too!"
The reforestation project offers several avenues for guests to get involved. Firstly, all guests arriving at Samara receive a Spekboom cutting in their room, which they can choose to plant in the reserve, or take home to plant in their own garden. "Our guests love this. They see it as a way to take a little piece of Samara home with them, or leave a piece of themselves here," Isabelle says. The reserve is also gifting each of the 11 000 people on its database with a Spekboom planting on their birthdays. They can follow the development of their plant using its unique 3 word address on what3words.com, or come and see its progress for themselves.
"This project is vital. With just one plant, we're revitalising the nutrients in our soil, binding it to prevent soil erosion and fighting climate change through carbon sequestration. Ultimately, our aim is to broaden the project to create sustainable green jobs. And at the same time, we're creating a meaningful way for our guests to protect the environment, too," Isabelle concludes.