Rare Mandrill Captured on Camera in Odzala-Kokoua National Park in Congo For The First Time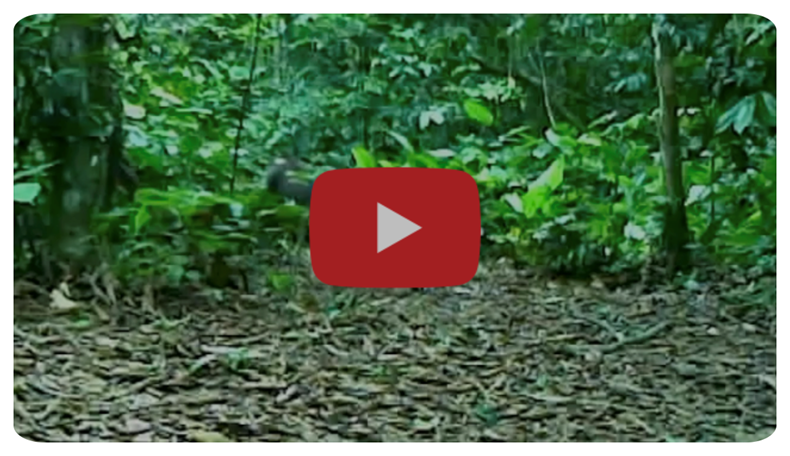 Congo Conservation Company together with conservation non-profit African Parks are pleased to announce the first visual recording of a mandrill (Mandrillus sphinx) by camera trap in the south-western section of Odzala-Kokoua National Park, which African Parks manages in partnership with the Government of the Republic of Congo. Please view the camera trap footage here.
Mandrills are omnivorous mammals and the largest of all monkeys. They tend to be shy and reclusive and live in the rainforest and gallery forest of equatorial Africa. Male mandrills are easily identifiable by their brightly coloured rumps and blue, red and yellow face markings that become brighter during mating season. Mandrills live in troops and often gather in multi-male and multi-female groups that can include anywhere between 200 to 600 animals.  
They are currently listed by the IUCN as Vulnerable and are under increasing threat from the spread of agriculture and human settlement, the expansion of mining and quarrying territories, and the bushmeat trade.
Mandrills are found further west in Gabon and while there have been claims to sightings before, particularly in the north east section of Odzala-Kokoua National Park, this is the first time there has ever been a recorded visual. It was captured June 3rd on a camera trap positioned on a walking trail enjoyed by guests staying at Mboko Camp in the park.
"It is incredibly exciting to have mandrills captured on camera for the first time, which confirms their presence in Odzala, underscoring the immense richness of its diversity and the value of camera traps in helping to improve our understanding and conservation of these extraordinary species" said Jonas Eriksson, Park Manager of Odzala-Kokoua.
African Parks has been responsible for the management of the park in partnership with the Congo Government's Ministry of Forest Economy, Sustainable Development and Environment since 2010, and together with Congo Conservation Company, the commercial tourism partner, they have seen a remarkable increase in the number and diversity of wildlife sightings. 
The camera traps, donated by Barbara Kingsolver author of The Poisonwood Bible, were set up by the Congo Conservation Company guides in early March and have yielded exciting images and video clips during the lockdown period.
African Parks: www.africanparks.org
Congo Conservation Company: www.odzala.com
CONTACT
Classic Portfolio: Katie Jacholke
African Parks: Fran Read