Magashi – Conserving Rwanda's Last Protected Savannah Ecosystem (1)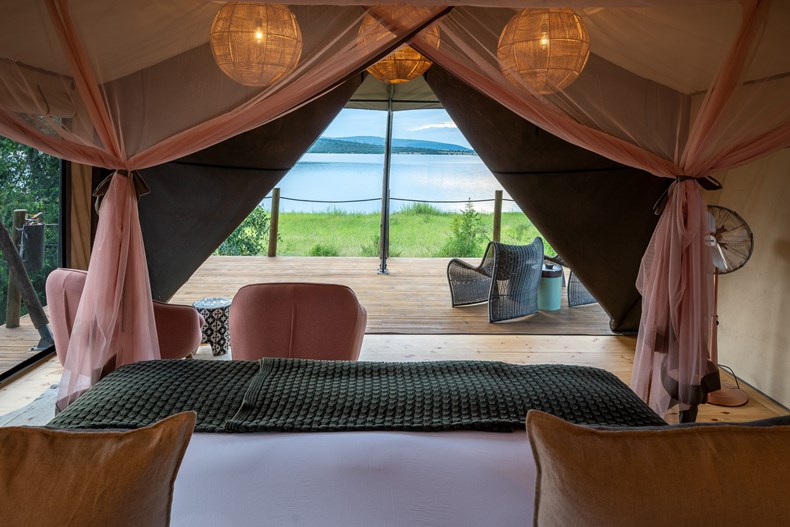 Wilderness Safaris' Magashi Camp, situated in north-eastern Akagera National Park, is strongly rooted in a core purpose: to help contribute towards the conservation and sustainable operation of Rwanda's last protected savannah ecosystem, and to drive sustainable ecotourism in the wildlife-rich park.
Launched in partnership with African Parks and the Rwanda Development Board, collectively called the Akagera Management Company (AMC), Magashi forms part of Wilderness Safaris' objective to build sustainable conservation economies in Rwanda, and further entrench its commitment to expanding ecotourism in the region by offering an extended high-end circuit that goes beyond gorillas.
"Our presence in the park has enabled us to assist AMC through a number of local initiatives, such as the monitoring and study of endangered wildlife, training of future trackers, removal of alien invasive plant species and the support of post-graduate Rwanda conservation students", comments Rob Baas, Wilderness Safaris Rwanda MD.
Although Magashi's primary conservation focus is to contribute to the sustainable financing of the management of Akagera National Park, the camp and its staff also provide monitoring support for Akagera's black rhino reintroduction project, which saw a new supplementary population of the East African subspecies returned to the park from European zoos late last year.
"Just eight years after the formation of the AMC partnership, Akagera had become 75% self-sufficient due to tourism, which also supports the surrounding communities. We feel privileged to partner with AMC to help contribute to achieving 100% self-sufficiency, and at the same time aiding the restoration of the ecosystem and offering our guests a truly life-changing journey", concludes Rob.
Click here to read the Magashi by Numbers infographic.