Kamageo moves to maximise safety for Safari Roadshow 2021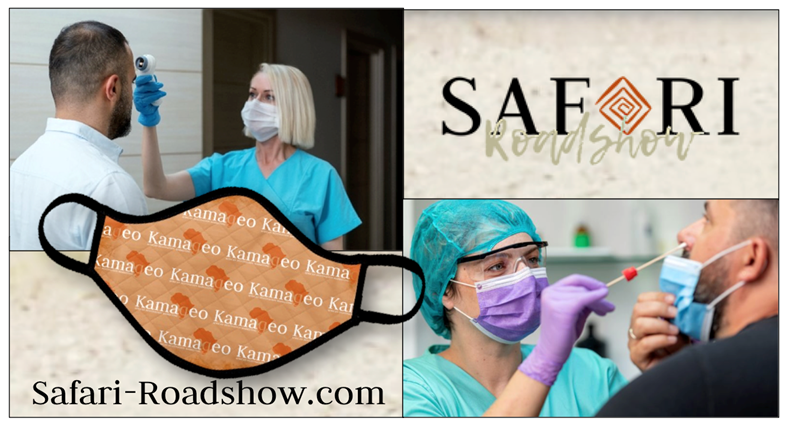 Kamageo has announced innovative plans in place to ensure the safety of participants in Safari Roadshow 2021 (see details at www.safari-roadshow.com)
"Whilst we all hope that by Spring 2021, things will generally be safer, but with no real total solution on the horizon, it makes absolute sense to have plans in place to help protect all participants. Of course, we cannot guarantee (or even be responsible) for everyone's total safety, but we can at least all agree to follow a series of measures in place to minimise the risks", explained Chief Executive, Tim Henshall. Kamageo's events are believed to be the first to introduce such comprehensive safety measures.
LIMITED NUMBERS : With just 8 exhibitors per session meeting with 8 buyers (with potential multiple people representing each company) there should never be more than 25 people in the room at any one time. This is in sharp contrast with other trade events where the numbers of people attending is way higher (and is their raison d'être).
SOCIAL DISTANCING : We've carefully selected our venues to help ensure that there's plenty of room for everyone to keep a safe distance apart, whilst at the same time retaining some element of vibrant atmosphere that our roadshows have become famous for.  Expect even more room between tables!
COVID TESTING FOR EXHIBITORS : Assuming there have been no major medical break-throughs, when our exhibitors arrive in Manchester (on the day before our roadshows start), they will be provide with a mandatory free Covid test, with results available before proceedings commence.
DAILY TEMPERATURE TESTING : Each morning, before our events start, all organisers, exhibitors and attendees will be required to undergo a temperature test. Anyone exceeding the prescribed body temperature will be asked to leave the event and follow medical advice (of the time).
PERSONAL PROTECTIVE EQUIPMENT (PPE) : Kamageo will provide all attendees with their own PPE, including Kamageo face masks and (subject to Government advice at the time) full face screens . If existing laws require face masks to be worn, it will be a requirement for participants to do so. 
ROOM & DESK DIVIDERS : Kamageo has sourced desk screens to be on tables between buyers and sellers at all times. In addition, we will be providing PVC clear banners that will be placed between tables to minimise risk.