Great Ape and Elephant Expert, Ian Redmond OBE to Headline 'On the Edge' Conservation Event at the RGS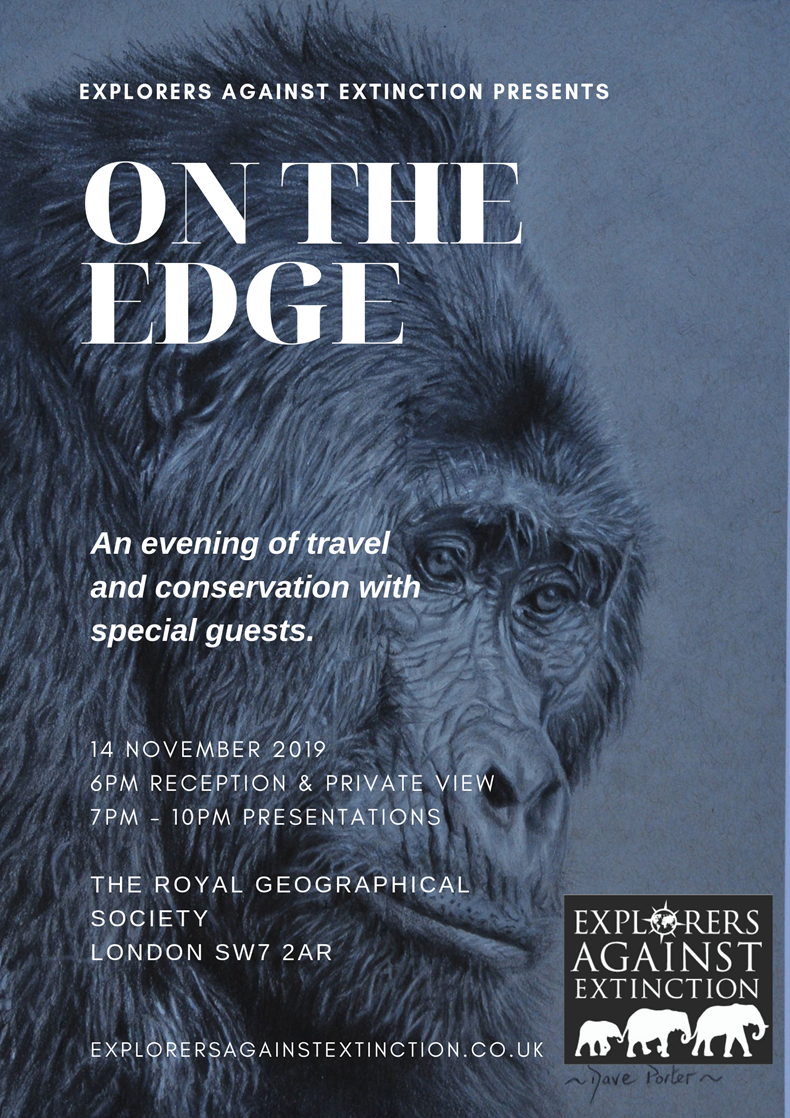 Conservation charity Explorers against Extinction (EAE) is delighted to announce that tickets are now available to purchase for their fund-raising event, 'On the Edge' at London's Royal Geographical Society on November 14th.
The event is the finale to EAE's autumn campaign which aims to inspire responsible travel and conservation while raising awareness about species extinction and funds for nominated projects, which this year include those in Uganda and Zimbabwe.
Campaign partners Uganda Tourist Board and safari specialist Real Africa will join EAE as hosts at the RGS along with some of the charity's patrons and celebrity supporters including Levison Wood who says: "I have been a huge fan of Explorers against Extinction for the last few years as it combines all my passions for travel, conservation, art and photography."
As well as a packed schedule of presentations in the Ondaatje Theatre, guests will also be able to view EAE's three wildlife exhibitions including Sketch for Survival.
Conservationist and chair of The Ape Alliance, Ian Redmond OBE will headline the evening. Ian is renowned for his work with great apes and elephants. He was mentored by the late Dian Fossey and introduced Sir David Attenborough to the gorillas of Rwanda and Zaire in 1978, for the famous BBC 'Life on Earth' sequences.
Joining Ian is co-founder of Namibia-based Giraffe Conservation Foundation, Julian Fennessy. GCF is the only NGO in the world that concentrates solely on the conservation and management of giraffe. Julian will be hot-foot from Uganda where EAE is helping to fund a translocation of critically endangered Nubian giraffe from Murchison Falls to Pian Upe. 
Painted Dog Conservation will provide an update from Zimbabwe, focusing on the project supported by EAE in the Hwange buffer zone: snare removal by the anti-poaching units.  Since the inception of PDC's anti-poaching patrols in 2001, over 30,000 snares have been recovered.