Governors' Balloon Safaris Celebrates 40 Years of Hot Air Ballooning in the Masai Mara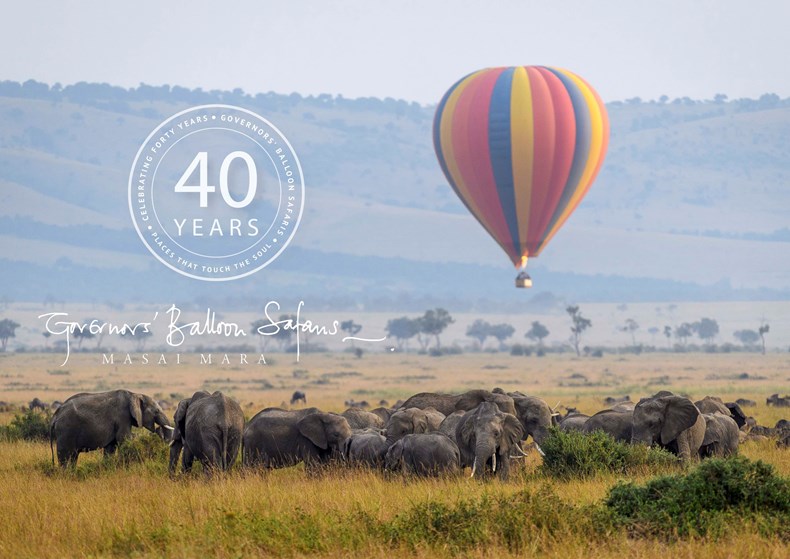 Happy 40th Birthday to Governors' Balloon Safaris!
For forty years Governors' Balloon Safaris have been flying hot air balloons, pioneering the enthralling experience of gliding over the Masai Mara's expansive and game-rich scenery, launching at dawn just as the sun's golden light starts radiating out over the landscape.
In our 40 years well over 100'000 Governors' passengers have experienced a Governors' balloon ride over the best flight path in the Masai Mara, taking in views over the serpentine bends of the Mara River, over the treetops of the riverine forest and along the golden plains.
Thousands of honeymoons, anniversaries and engagements, tens of thousands of birthdays and even a few weddings have been enjoyed from this unique perspective!
A ballooning safari has always been finished with a scrumptious champagne breakfast where guests and pilots mingle and discuss the serious perks of being a professional balloon pilot! Over the years we have had some of ballooning's top pilots and greatest characters working for us.
Peter Langford was the first chairman of the British Balloon and Aiships Clubs Technical Committee, and a regular participant in the Irish National Competition, which boasted the challenges of hooking a trout from a balloon in flight, collecting leaves from passing trees, and buying a Guinness while passing over a pub!
Graham Elson was licenced in US and UK, flew 65 balloons in 14 countries, and perhaps most impressively had a starring role in the balloon sequences for the James Bond film "Octopussy"!
True to our pioneering nature, the technical designs developed by Governors' over the course of our many years are now used in passenger-carrying hot air balloons around the world.
After all these years, we are still thrilling our guests with unforgettable hot air balloon experiences along the best flight path in the Masai Mara, giving guests a different perspective over the jewel of Kenya.