Exciting News for Lemala Wildwaters Lodge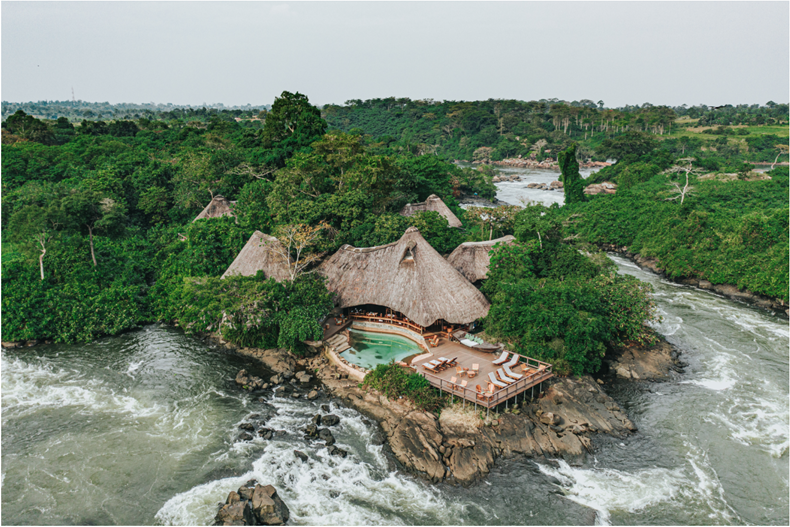 The entire Lemala Wildwaters Team is thrilled to announce the start of renovation work on our iconic and much loved Wildwaters Lodge on a private Island on the River Nile, Uganda.

Many of you may know that the Nile rose to an unprecedented level last year, Wildwaters is downstream from both Owen Falls Dam and Bujagali and bore the full force of the higher than normal releases during the prolonged rains of 2020 resulting in flood damage to our restaurant and pool deck.
Our restaurant and bar is in the process of being totally rebuilt and our famous swimming pool and deck area are being relocated to allow guests spending time at Wildwaters unhindered views of the Victoria Nile before it gathers its energy to thunder both sides of the island and over the incredibly dramatic Itanda Falls and Hypoxia.
The longest river in Africa and arguably in the world, the River Nile it is impossible to sit here and not be reminded of the history that is entwined with this world thoroughfare.  The main hospitality areas are being refurbished as we return to our source, combining modern comfort levels with period pieces that hark back to the days of the early explorers in pursuit of the Mountains of the Moon. 

Of course we'll continue to source as much of our produce locally, especially our ever popular catch of the day, often plucked from the waters next to our kitchen - it really does not get much fresher than that!  We have some new and exciting changes to our menus and cocktails planned to celebrate the opening of our brand new restaurant and pool.
Throughout 2020 our incredible team have remained positive and active supporting each other and their communities, very much part of the #SpiritOfLemala and are itching to welcome guests back to their cherished Lemala Wildwaters Lodge.