CITW Zambezi Launches Jabulani Community Literacy Programme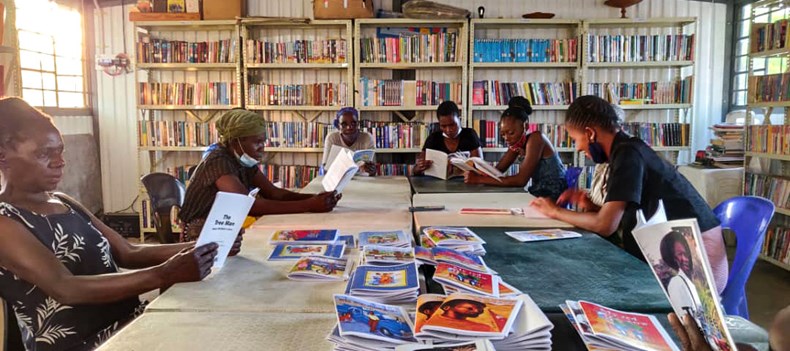 Children in the Wilderness (CITW) Zambezi has launched a ground-breaking Adult Community Literacy Programme at Jabulani Primary School near Victoria Falls, starting with 90 books generously donated by Judith's Reading Room. Delighted teenagers and adults of all levels of reading ability from the community have already joined the programme, with meetings taking place in the evenings when the school is quiet.
Inspired by a plan formulated in June 2021, the programme officially got under way in late November 2021. Facilitated by teachers at the school, there are 10 books each comprising nine different stories, allowing for group reading, and up to 20 readers accommodated at a time. The programme focuses on helping improve the reading level of individuals through practice, and provides a place where those who can read to come and learn more about a particular subject, or get into a good novel.
For those who are still learning to read, the teachers on duty spend more time one-on-one or within small groups, using level-appropriate resources to work at the learners' pace. For those with a higher level of reading, the session is more self-directed and they can choose books to read, either on their own or in small groups. 
"We are really hoping to emphasise literacy and the importance of it, for the coming year. Establishing teenager and adult community literacy groups will give those who might not have had the opportunity or ability to pick up reading during school, the chance to do so. What's more, the camaraderie and mutual support between those who attend is wonderful to see, and watching someone work their way through a sentence that they weren't able to read before is truly heart-warming", noted Sue Goatley, CITW Zambezi Programme Co-ordinator and Community Development.
To source the books, CITW found a publisher in South Africa that offers a variety of adult-level, locally relevant stories. These create a much larger sense of connection with the story, while the books also reflect humour that is appreciated by the readers. The specific selection of books happened to be out of print, but downloadable files were provided on the website, and CITW had them reformatted and specially printed for programme members. The books range from very simple entry-level reading, to more complex and detailed stories. The books have been received with excitement and gratitude, and while this is the first community literacy programme that CITW has established, the next is already planned for Kapane Primary School in the Tsholotsho community outside Hwange National Park.
CITW is also planning to train teachers and literate school-leavers to use the Wordworks Early Literacy Programme to assist primary school children who can't read, despite attending school for four or five years. Thanks to solar lighting donated by the Bourke Family Foundation, they will also be adding evening classes for any school leavers and community members who are keen to learn. The programme can be adapted for any age, as libraries are equipped with books for low reading ages, as well as age-appropriate and high-interest books.