Borana launches Day for girls Campaign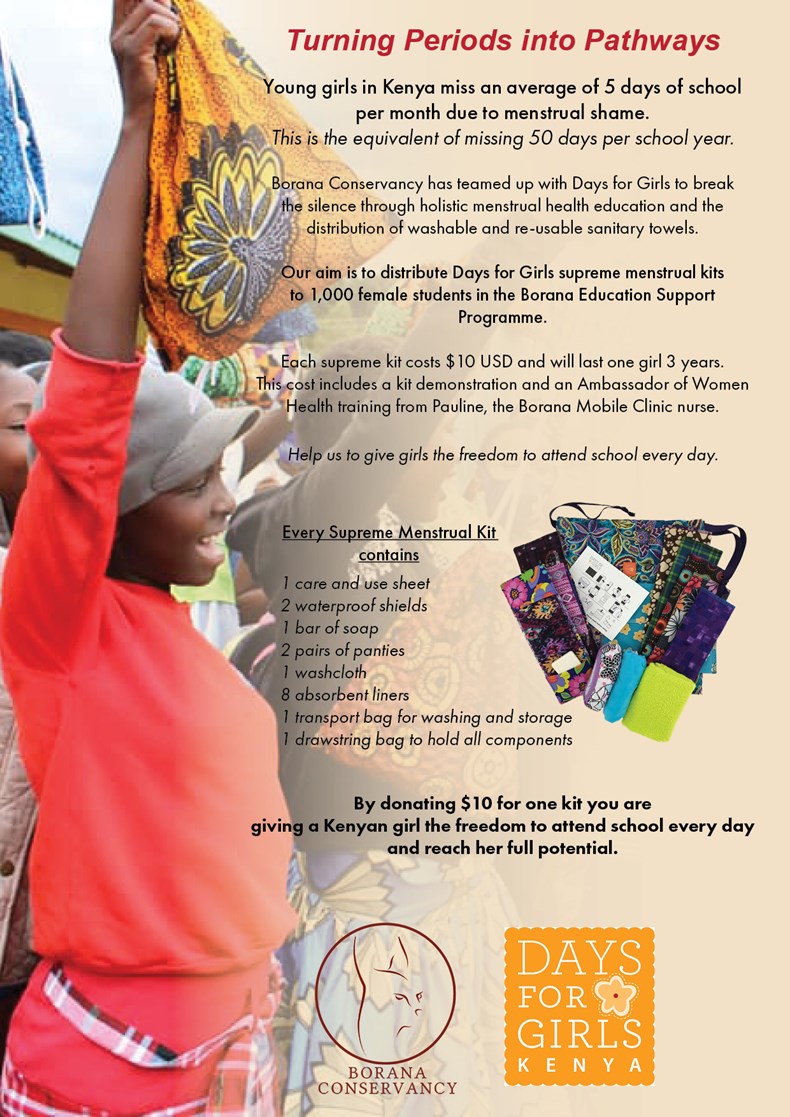 Borana Conservancy has teamed up with Days for Girls to break the silence through holistic menstrual health education and the distribution of washable and re-usable sanitary towels in Northern Kenya. 
Days for Girls is an international organisation that aims to improve the menstrual health and dignity of girls and women, and help stop menstrual shame by making washable sanitary pads and conducting menstrual health education across the world. The movement has reached more than a million girls to date.
They have an Enterprise at Chumvi Village to the South of Borana Conservancy and have recently started a campaign dubbed the "Red Line Campaign" which seeks to distribute washable pads to Borana's neighbours and educate both men and women on the need to break menstrual shame.
Our aim is to distribute Days for Girls supreme menstrual kits, via the Borana Mobile Clinic and Community Development Office,  to 1,000 female students in the Borana Education Support Programme.
The Supreme Kit is the preferred option as it lasts for more than 3 years if properly used and maintained, and only costs $10 USD per kit. 
Each $10 donation includes a kit demonstration and an Ambassador of Women Health training from Pauline, the Borana Mobile Clinic nurse. The training will teach girls about their body development, menstrual cycle, menstrual hygiene and other reproductive health issues.
Save the Rhino have generously agreed to accept donations on our behalf, 100% of all funds raised will go towards the purchase of the Days for Girls supreme kits.