AN UPDATE: Albino elephant calf, Khanyisa is accepted into a herd of her own at HERD & Jabulani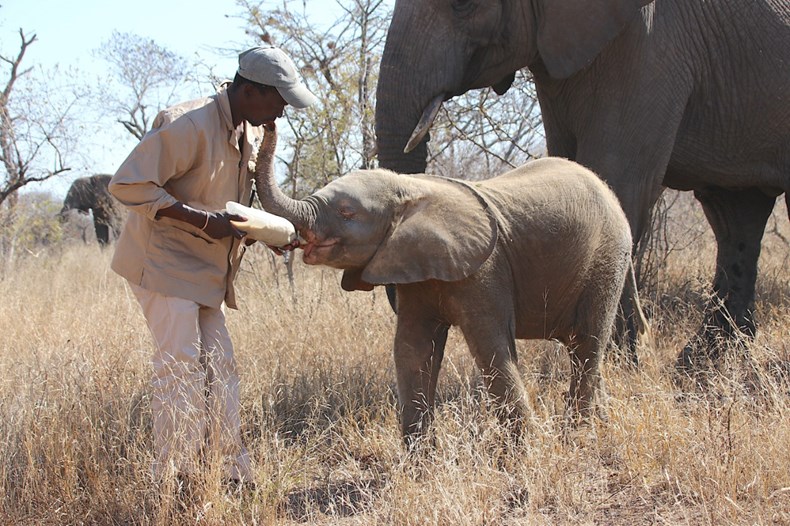 Earlier this year, Jabulani shared news of the rescued female albino baby elephant that was brought into the care of HERD, South Africa's first elephant orphanage built alongside the Jabulani stables. The little elephant had survived severe wounds from a snare and was found alone, abandoned by her herd.
Jabulani is proud to share an update that Khanyisa (named by Jabulani MD & Owner, Adine Roode, meaning "light" in Shona) has been fully rehabilitated and has recovered from her wounds and her integration into the Jabulani herd has been successful.
Khanyisa, now one year of age, has been accepted by the Jabulani herd as one of their own, but the process to get to this stage took months of gradual interactions, to ensure the calf and herd's wellbeing.
The Journey of Rehabilitation & Integration  
Adine first introduced Khanyisa to bull, Jabulani - who had paid daily visits to the baby elephant through the fence for a few weeks. The meeting went well; he was incredibly patient and kind with her. Next, it was female, Lundi, who has taken on the role of Khanyisa's adoptive mom. Lundi immediately accepted Khanyisa by adopting the suckling stance to allow the calf to suckle from her. Although the females in the herd are not lactating (they are on contraception as the objective is not to breed with the elephants), this suckling provides Khanyisa with emotional comfort.
Following this, Khanyisa met each elephant, one by one. Bubi, another female, showed keen interest and became a trusted allomother - also allowing Khanyisa to suckle from her. Kumbura and Timisa (both orphans accepted into the herd) have taken prominent roles in her life too. Kumbura is a protective and caring allomother, and Timisa is her playful, loving older sister.
Khanyisa started joining the herd in the wild for two hours, learning from them every step of the way. She then started spending a few more hours with them, with the carers taking her fresh, warm milk every two hours. In July, she had her first swim in the dam with her new herd and started spending full days out on the reserve foraging with them.
She still returns to Lammie, her loyal friend (a Pedi-sheep), for her evening bottle before spending the night in her nursery in the orphanage.
Khanyisa's relationships within the herd have strengthened, and she is confident and comfortable in her skin, surrounded by the protection and support of the herd.
The next step of her rehabilitation will be to join the herd overnight. Adine and HERD's elephant advisors continue to assess the situation until they feel it is the right time to take that next important step.
https://www.youtube.com/watch?v=MkV_2R4hTUo
https://www.youtube.com/c/HERDElephantOrphanageSouthAfrica/
www.herd.org.za