Albino Elephant Calf Brought into HERD's Care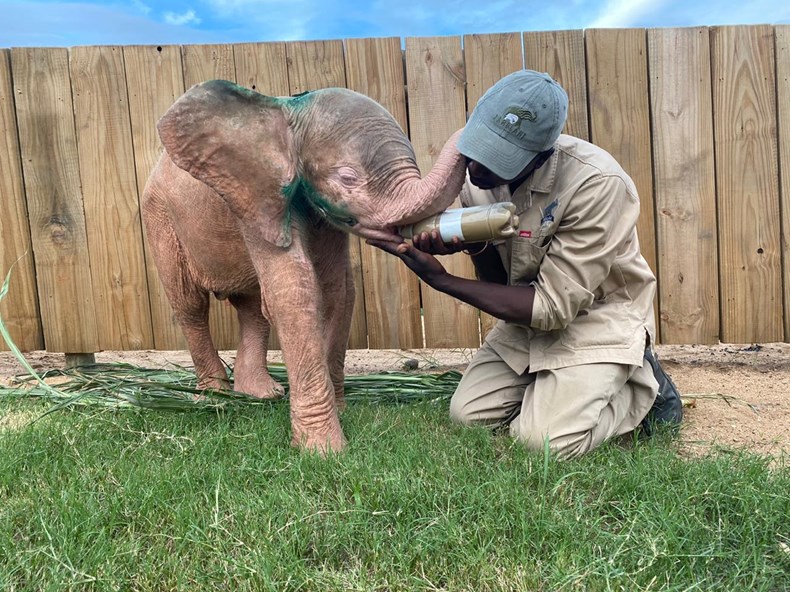 It is the mission of HERD, the Hoedspruit Elephant Rehabilitation & Development, South Africa's first dedicated elephant orphanage, to rehabilitate orphaned elephants.
On 7 January 2020, HERD received a four-month-old albino elephant that was found trapped in a snare with severe injuries.
Her wounds indicated that she had been trying desperately to free herself for a few days. She had severe lacerations around the back of her ears and neck that stretched around her mouth and cheeks. The top section of her right ear had been sliced off. There was no sign of her herd anywhere.
The elephant was first taken into the care of the team at Care for Wild Rhino Sanctuary in Mpumalanga. She was stable, but her injuries were extensive. Their veterinary team attended to the calf's wounds as our HERD elephant care team departed immediately to assist in caring for her that vital first night, ahead of transporting her to HERD in Limpopo Province.
HERD Founder, Adine Roode and wildlife vet, Ben Muller, joined them the next morning, once all correct permits were in place, to collect the calf and transfer her to HERD. It was a three-hour journey.
By the evening of 7 January, the injured calf arrived safely at HERD in the Kapama Private Game Reserve, the elephant settled in quickly, with Lammie, HERD's resident companion sheep for company.
As an albino, the elephant is more visible in the bush, and thus susceptible to attacks by predators. It also means that her eyes are more sensitive to light. However, albino elephants have been known to survive in the wild.
Her first morning at HERD, the young calf took her first walk in the early morning light, and Adine decided to name her "Sunshine". Dr. Rogers suggested the closest translation in the local Shona language is "Khanyisa", meaning "Light/Sunshine", and our elephant care team agreed.
World meet Khanyisa!
Wildlife vets Dr. Peter Rogers of Provet Wildlife Services has continued to assist in attending to Khanyisa's wounds, check-ups, and fluid and vitamin administrations.
With any elephant calf, their delicate nature has proven them to be one of the most difficult wild animals to hand-rear. Our team is facing the additional challenge of Khanyisa's severe wounds and albinism. So each day her health continues to improve, is a victory.
Three weeks have passed since she has been in our care, and Khanyisa continues to improve each day, her wounds are healing, her eyes are bright and she is very alert and inquisitive. She arrived weighing 124KG and her weight on 28 January was 138KG, a welcomed 14KG weight gain. She is an incredibly brave and resilient little elephant, and she has captured our hearts and of many around the world too.
The proximity of the neighbouring adult Jabulani Herd have been reassuring to the little one, and once she has fully healed, we will start with the reintegration process with her new family, under the guidance of an expert elephant advisory team.
It is due to the work of HERD and Khanyisa's carers, Adine Roode, the wildlife vets of Provet Wildlife Services, that she has continued to go from strength to strength.
For Media or Fundraising enquiries please contact:
Sue Howells +2766 316 7000
Email: [email protected]
NOTES TO EDITORS
With the growing numbers of orphans and displaced elephant calves in recent years, as a result of increasing numbers of poaching of elephant mothers as well as man vs. elephant land conflict, Adine Roode, MD and owner of Jabulani, took the step to build a dedicated elephant orphanage to provide a unique adoptive family structure for baby elephants in need. The orphanage was completed in August 2019.
It is our mission through HERD (Hoedspruit Elephant Rehabilitation and Development) to care for and rehabilitate these orphaned elephants, to give them a new family, and a second chance of life with another herd. The orphanage lies adjacent to the Jabulani Herd stables on the Kapama Private Game Reserve, which allows us to integrate each baby elephant into the herd according to their individual emotional needs.
The unusual family structure of the Jabulani Herd, the majority of which are orphans themselves, presents a unique solution for orphaned baby elephants in Southern Africa that vitally need to find a second herd to ensure their emotional wellbeing and survival.