A rare gift of music from internationally renowned Chinese violinist Zhang Zhang for the children at Esiteti Primary School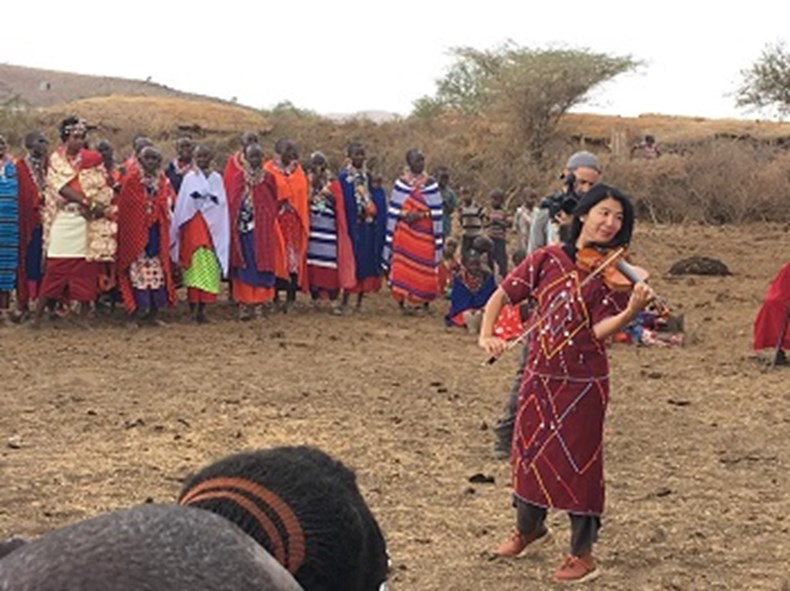 The children at Esiteti Primary School had a delightful surprise when internationally renowned Chinese violinist Zhang Zhang performed during a visit to Elewana Tortilis Camp in Amboseli.
Zhang Zhang is one of the chief soloists of the Monaco Philharmonic Orchestra, and is currently travelling the world on a charity inspired sabbatical sponsored by Prince Albert. She has visited many destinations to play her remarkable music and raised thousands of dollars for good causes across different continents.
This time it was the turn of Amboseli to tune in to all the wonder that Zhang has to offer. First playing to a hugely appreciative Maasai audience, Zhang's obvious enjoyment of the music and enthusiasm for the experience transmitted itself to the local community who enthusiastically clapped and stamped their feet throughout Irish jogs, Scottish reels and Chinese harmonies.
Moving on to Esiteti Primary, Zhang made about 486 new young friends. She played first to the assembled school and then toured the classrooms, laughing and joking with the children and inspiring them with her talent and her sheer force of personality. All present were moved to see young Maasai experiencing this kind of music for the first time and it was truly a memorable day for everyone.
Zhang Zhang is a member of Skål International Monaco, who facilitated her trip as part of their support for the Amboseli area. The day at the school saw a ceremonial unveiling of a plaque thanking Skal for the classrooms they have funded. Zhang Zhang and the Skal representatives were dressed in honorary Maasai clothing and given gifts of beautiful beaded necklaces.