97% of Pangolin clients pro-vax and ready to travel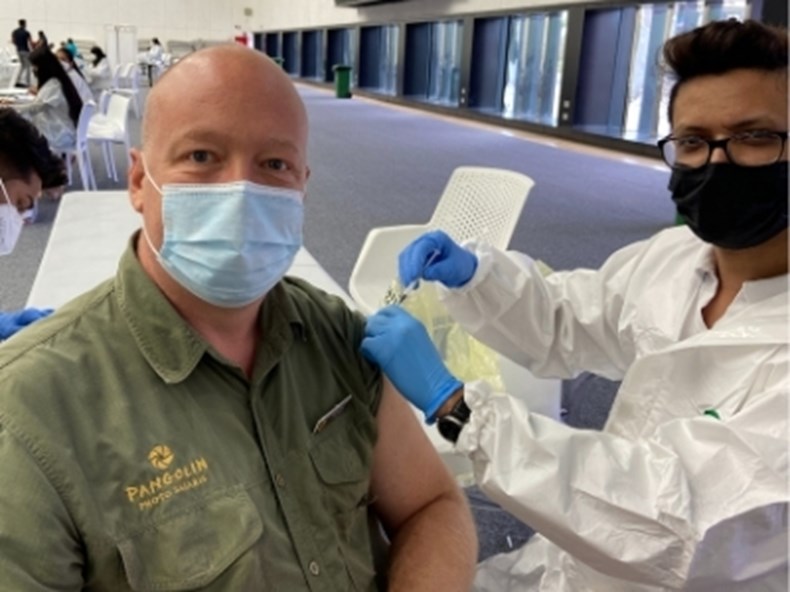 Pangolin Photo Safaris conducted their follow-up survey last month to establish attitudes towards vaccines and appetite for travel. The survey received nearly 1000 responses. The first part of the survey was conducted at the start of the year when vaccines were starting to be rolled out across the source markets.
"We are delighted to see that nearly 100% of our clients are either vaccinated or waiting for a first or second jab," says Pangolin Director Toby Jermyn. "This bucks the trend in certain source markets like the US where there is still significant vaccine hesitancy of up to 30%".
Respondents in the earlier survey (January 2021) were asked whether offered the vaccine, at that moment, would they take it? At the start of the year, there was considerable concern among the same group with vaccine hesitancy at around 25%.
"We expected to see results in the 90s but 97% is a very encouraging figure especially when we consider that within the 3% there are people who can't take the vaccine for medical reasons," says Jermyn.
As to attitudes to when they want to travel as expected people are chomping at the bit to get back to Africa. Clients in the US were expected to be first through the door and indeed Pangolin saw plenty of arrivals of fully vaccinated US citizens arriving over the last few months. The Pangolin Chobe Hotel saw average occupancy levels of 80% in August made up of local SADC clients as well as a healthy presence of US and European clients.
"Wildlife photographers are not easily scared off and the opportunity to enjoy The Chobe at its very quietest was too good to miss," says Jermyn. "Forward bookings for next year are also bouncing back fast meaning that 2022 will see record occupancy at the Pangolin properties"
The remaining concern is for two key source markets, being the UK and Australia/New Zealand. Due to what appears to be politically motivated draconian travel restrictions we don't expect these markets to really return until 2022 and 2023 respectively. "With the Delta variant now dominant in these source markets as well as Africa is it really a variant of concern anymore?" questioned Jermyn.
When asked for factors that would influence their decision to travel sooner rather than later to Africa, respondents cited the multiple PCR tests that they would have to endure – and pay for – as a real factor. Obviously, respondents from the UK were most concerned about the rules on hotel quarantine upon their return.
With the vaccine rollout reaching its zenith surely it is only a matter of time before a vaccine certificate with a WHO-approved jab will allow PCR test and quarantine free travel again.
One encouraging sign is the long-haul airlines stuttering reboot. "Airlines can't just start up again on a moment's notice so they must know what's coming down the travel restrictions pipelines and I am sure their lobbyists are tapped into the decision-making process far closer than the rest of us in the safari industry!".
To view the results and analysis of the surveys please visit https://www.pangolinphoto.com/covid-19-travel-survey-pt2