Wilderness Zimbabwe Launches New Farm-to-Table Projects with Tsholotsho Community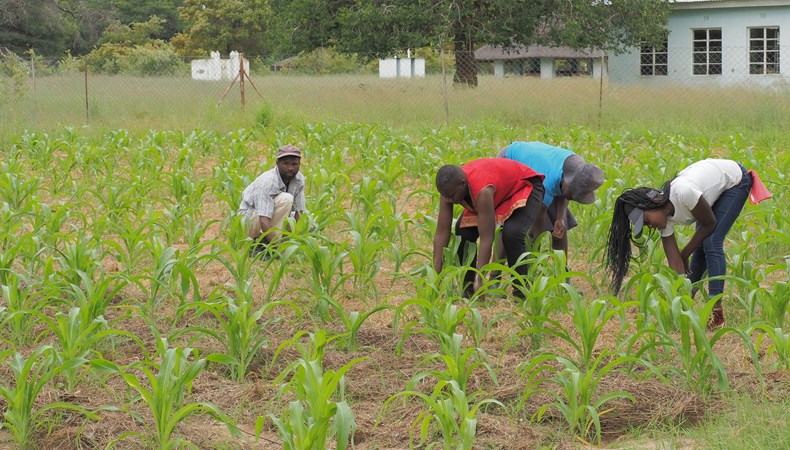 Wilderness Safaris Zimbabwe and its non-profit partner, Children in the Wilderness (CITW), have implemented a number of farm-to-table food-security initiatives in the Tsholotsho District next to Hwange National Park. The impact of these projects, including a ploughing-and-planting initiative and innovative Agri-Course for girls, is already showing positive results for community members.  
"The remote, rural areas of Zimbabwe outside Hwange, where we operate in private wilderness areas, are particularly dry and unyielding for agriculture, exacerbated by extreme temperatures, erratic rainfall patterns and human-wildlife conflict. Our latest initiatives in Tsholotsho will go a long way to supporting our most vulnerable neighbours with food-security opportunities", noted Wilderness Zambezi Community Liaison Officer, Shuvanayi Taruvinga.
Ploughing, planting and educational projects commenced at a number of the district's villages in November 2021, before the summer rains set in. Millet and sorghum were the first seeds planted in the Tsholotsho Farm-to-Table Ploughing Project. Growing vegetables is naturally seasonal, and additional resources will be required to help increase productivity and yield. In the meantime, only the hardier vegetables have been planted, such as Chou Moellier (giant tree kale), rape, kale, tomatoes, sweet potatoes, and butternut.
This year's good wet season has since produced an 80% germination rate, and healthy rows of crops have greatly uplifted the spirits of the residents, with the rains also filling the natural water sources for the livestock. The harvest in April/May will provide the most vulnerable families in the area with a nutritious staple for the year, alleviating the concern about access to food that usually occurs at this time of the year, and providing an income by selling off the surplus. 
Wilderness has committed to buying any excess millet and sorghum for its staff meals, and to use as an alternative flour in its amazing local heritage menu items so popular in the Hwange camps.
Recognising the need to offer a second chance to girls who did not do well academically at school, Wilderness initiated a sustainable life-skills programme to focus on agriculture. Started in partnership with Blue Collar Traveller (CITW Zambezi's long-term scholarship sponsors), the Agri-Course for Girls programme also commenced at the end of November 2021. Fifteen girls enrolled on the course, and Foundations for Farming presented the initial training, which involved theory and practical lessons on conservation farming methods. Now, just three months since the girls planted their first seeds, the training garden at Ziga is already lush and green.
"Obert is a local ex-teacher who is now mentoring the girls in organic farming. He was instrumental in the implementation of this initiative, and is working together with Judith, the Head Teacher at Ziga Primary School. Our mentors are knowledgeable, energetic and passionate, harnessing the Wilderness mantra of changing lives", added Shuvanayi.
In addition to these long-term food-security projects, other ongoing community-based initiatives include a recent eye-testing drive at the Wilderness offices in Victoria Falls, as a result of which, 17 of the 42 staff members received eyeglasses. In addition, CITW organised a very successful litter pickup day at Jabulani Primary School, just outside Victoria Falls. The knock-on effect among residents and family members in the area is already apparent, and the children are optimistic that their efforts will have an abiding positive impact.