Wilderness Safaris Proudly Supports Vaccination Drive in Namibia's Remote North-West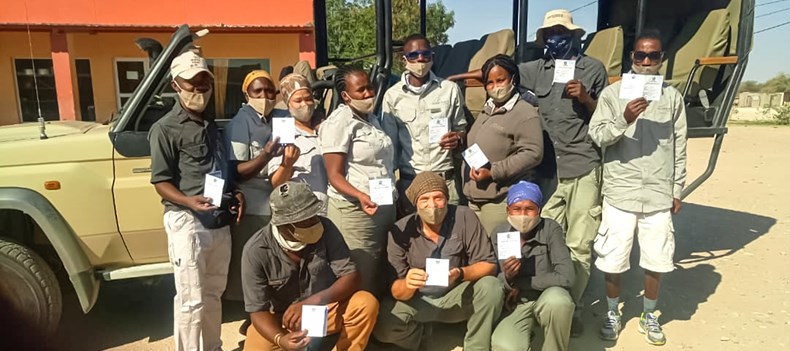 As the global vaccination roll out to combat COVID-19 gathers momentum, the Wilderness Safaris Namibia team proudly took to the road in the country's remote north-west to ensure staff living at Serra Cafema, Hoanib Skeleton Coast Camp and nearby communities had the opportunity to receive their vaccinations. In partnership with the Ministry of Health and Social Services, Wilderness Safaris and Natural Selection Travel joined forces to host a mobile vaccination team at Sesfontein in early June, followed by a second vaccination drive at Serra Cafema on 22 July.  
While staff living near Windhoek, Swakopmund and Walvis Bay were able to get their vaccinations a few months back, the mobilisation of teams to service more remote areas in Namibia this month was an exciting step in the vaccination roll-out programme.   
Working closely with the Ministry of Health and the Marienfluss Conservancy Chairman, Harry Ganuseb, the second vaccination drive took place at Serra Cafema on 22 July to assist both staff and members of the Marienfluss community, many of whom are Himba people. A total of 49 people from the camp and surrounding community gratefully received their first vaccinations.
Health, hygiene and sanitation, in relation to both guests and staff, have always been top priorities for Wilderness Safaris, and this has only been heightened in light of the pandemic. The company has bolstered already existing measures in all its offices, camps, aircraft and vehicles, and is continuing to refine, adapt and implement these procedures in accordance with best practice. A dedicated task team driving all COVID-19 related safety has also been set up to ensure that all the latest advice is followed. Park.Doctor, a not-for-profit medical organisation working to initiate and facilitate partnerships between medical and conservation professionals, provides this medical support.
Click here for the following information: