Where focus goes, energy flows – African Bush Camps host internal guides training at Somalisa Camp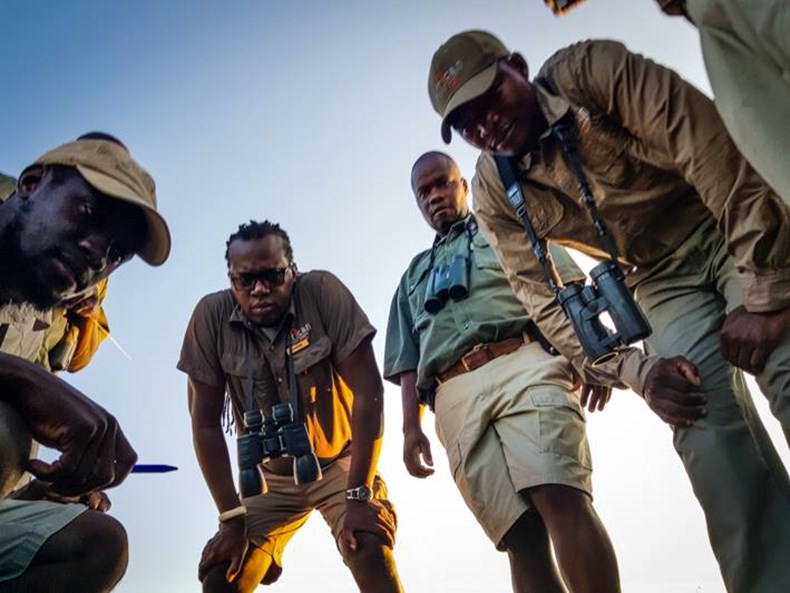 African Bush Camps annual guides training took place last month, at Somalisa Camp, Hwange National Park. African Bush Camps founder Beks Ndlovu, himself a professional guide for over 23 years was on site to formally welcome and thank his colleagues and good friends. Beks and Africa Bush Camps have long acknowledged the need for sustained focus and resources issued to such a vital element of a safari offering. The guides training brings experts from varying fields to orchestrate training over the duration of 7 days in camp. Over 40 guides from across the three countries where African Bush Camps has offerings namely Zambia, Botswana and Zimbabwe were in attendance. Guides were split into 6 groups and were allocated a head guide for the duration of their training. Days were spent in the field, on game drives and informal training lectures, rotating between the expert leaders.
Image: Shaun Stanley
In house, experts included Derek Solomon who has published several books on bird identification, Paul Hubbard a Zimbabwe culture and history professional, Dorothy Madaba an entomology expert from the Zimbabwe Natural History Museum and African Bush Camps company head guide Nic Polenakis. A principal focus throughout the training was bird and plant life, rifle handling, tracks and how to approach animals. Guides are encouraged to share stories, sightings, lessons and goals amongst each other. The days were filled with a fabulous comrade, banter between the older and younger guides and a wonderful sharing of knowledge.
Image: Shaun Stanley
African Bush Camps recognize the importance of investing in the skills and training of its guides in order to maintain the best standing, together the guides have a collective of just under 700 years of guiding experience which is a remarkable wealth of understanding and knowledge. African Bush Camps guides look forward to sharing their new and rejuvenated knowledge and energy with their guests. Come join them on safari. Watch our guide training video here: https://africanbushcamps.sharepoint.com/:v:/s/marketingteam/ET14LbEebghLmGHK_YFgCq8BnfcNsusdmFcwFqJBvg3DwA?e=3N1PfX
A recent guest review and tribute to our guiding philosophy, "Thank you Godfrey & Des. We learned so much biology, history, and even a bit of philosophy as we travelled together. We laughed, told stories and watched animals, no bars, no screens in the way, just animals being themselves. We smelled flowers, dissected animal poop, and photographed herons. You were our teachers, our guides and our protectors."