The Ultimate Laikipia Adventure – El Karama Lodge & Karisia Walking Safaris launch - The New Trans Laikipia Walking Safari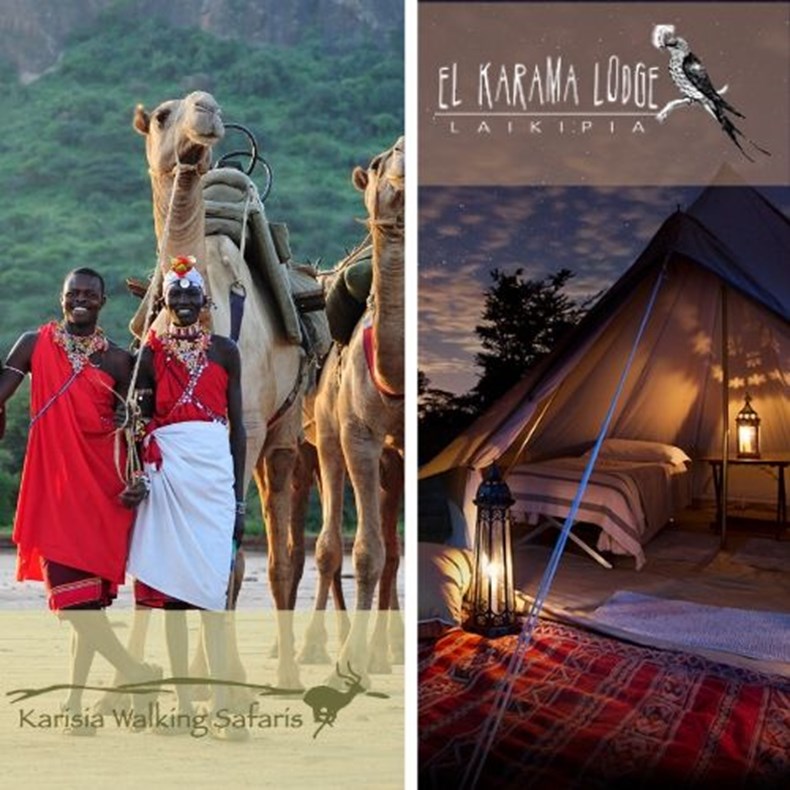 El Karama Lodge & Karisia Walking Safaris have joined together to create an exciting new safari concept, an 8-night walking adventure from Karisia's Tumaren Camp to El Karama Lodge led by experienced and passionate guides who will explore the stunning Laikipia landscape with you on foot on what is perhaps the Ultimate Slow Safari.
Start at Karisia's Tumaren Camp. On arrival you can relax and enjoy the beautiful camp set on the edge of a wide plain and looks west to Losera Moru and Mukenya, granitic inselbergs that define the local landscape. Each tent is furnished uniquely with sweeping verandas from which most of the plains game can be spotted. After lunch enjoy a relaxing walk from camp. Overnight at Tumaren Camp.
After breakfast you will depart early from Tumaren on your mobile Karisia walking safari for 3 nights sleeping under the stars in their lovely mobile camp. The joy of Karisia's camel walking safaris. Walking safari company, is that you travel at the gentle pace of the camels allowing you to slow down and really take in the beauty of the Laikipia landscape and its wildlife. You can either choose to walk alongside your camels or ride on them arriving into your new mobile camp by lunchtime each day where you will be welcomed by a cool drink.  (The pack camels and main team arrive in camp ahead of you to set up your tents and hot showers.)  After lunch you can either relax in the cool shade of the acacia trees or enjoy a short loop walk with one of your guides. It is a wonderful way to unplug from busy lives and reconnect with nature.
On the 5th day you arrive at the border of El Karama conservancy and are met by the El Karama lodge team. After a sit down lunch you start to traverse the El Karama property on foot and arrive in your mobile bell tented El Karama camp. Known for their rustic luxury, great food and service you can relax in total comfort in camp. For your final 3 nights of safari you will walk into El Karama lodge itself. Relax by their eco-friendly pool, enjoy a well earned massage by the river, do game drives or more walks or read a book on your own private veranda. The pace of the safari can change on as much, or as little depending on what you like.
For more information, rates and images contact UK representation team [email protected]