The Safari Store launches the Rufiji™ Safari Traveller Bag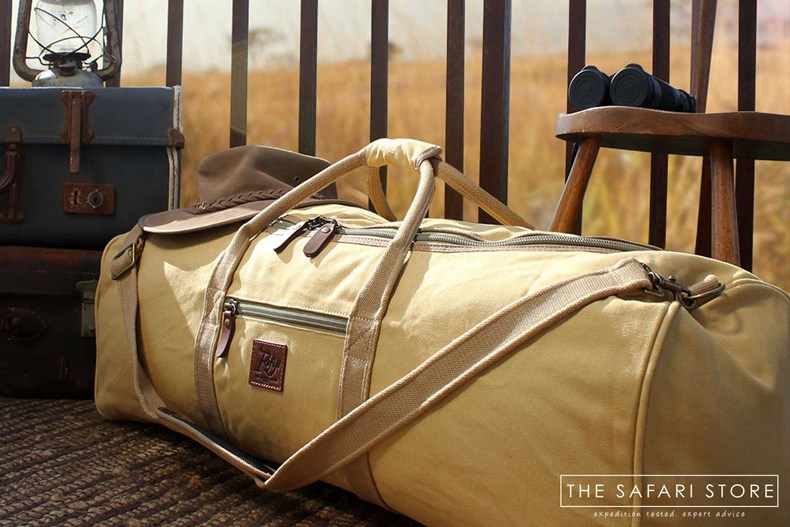 The Safari Store is proud to release its biggest safari duffel bag yet. In full canvas, this essential holdall is soft, squashable safari luggage simplified – offering exceptional value and practicality for African and adventure travel.
Made from the same safari-grade canvas as the rest of The Safari Store's safari luggage range, this bag is strong enough for the holds of charter planes and the dust and parameters of transfers in open 4x4s typically associated with many luxury safaris. With no side pockets, the space offered by this holdall is remarkable and is an exciting new addition to The Safari Store's collection.
"I designed the Rufiji™ Safari Traveller to be an essential safari holdall, with sleek, understated safari style and a larger main compartment with fewer side pockets," said founder of The Safari Store and designer of the bag, Steve Adams. "The result is a safari bag which is minimalist in design, but which offers maximum packing space."
The Rufiji™ Safari Traveller has luxury leather accents – tabs on the lockable zips are easy on the hands – and the padded shoulder strap is designed for comfortable carrying. The horseshoe-shaped zip makes for streamlined accessibility – a clever feature which removes any little frustrations around packing and unpacking.
To find out more about the Rufiji™ Safari Traveller and to shop, visit https://www.thesafaristore.com/en/products/rufiji-traveller-safari-bag
The Safari Store is offering an introductory discount on the Rufiji™ Safari Traveller until the end of the week. For more information, please contact [email protected].