The New Singita Faru Faru Lodge is Revealed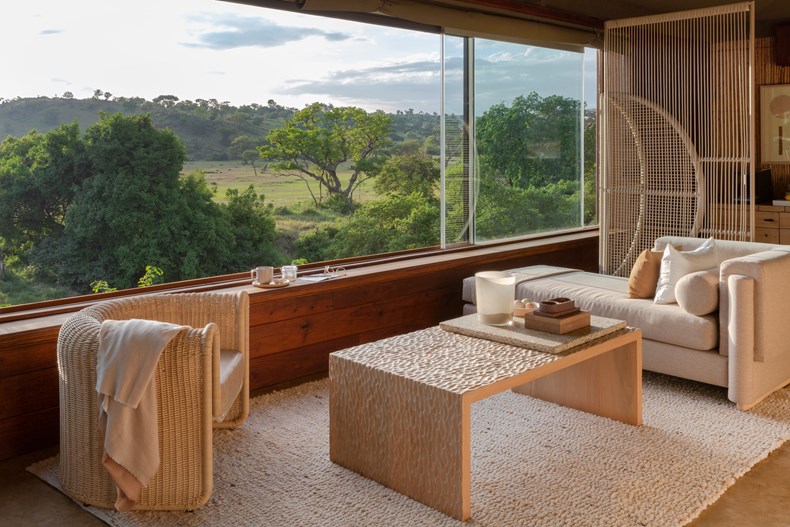 The Serengeti's vast plains of pale gold, the artistry of African design and the simple, clean lines of Danish interior style have inspired a new look at the recently reopened Singita Faru Faru Lodge in Tanzania. This much-loved property is a showcase of exquisite workmanship in an atmosphere of total serenity, providing a subtle backdrop for the awe-inspiring wildlife experience for which the region is famous.
The lodge first opened in 2007 and offered guests a fresh take on the classic safari aesthetic. Just over a decade later, Singita Faru Faru Lodge has undergone a striking redesign that further elevates its comfort and beauty. Now bigger, lighter and brighter, the reimagined look and feel is streamlined and restrained without losing any of the lodge's signature personality.
Subdued, earthy tones paired with raw timber, natural clay and screeded floors find balance with touches of traditional African craft in an environment of Scandinavian simplicity. The unique work of local artisans, from handcrafted furniture to custom fittings and bespoke objects, are on display throughout and complement the striking fusion of African and European influences. Vast windows and sliding glass doors bring Singita Faru Faru Lodge's incredible wilderness setting into the rooms, allowing the Serengeti and its wildlife to take centre stage.
Enquire now about the new Singita Faru Faru Lodge, or learn more about our Serengeti properties here.