The New Hillside Suite at Singita Sasakwa Lodge: A Villa for Two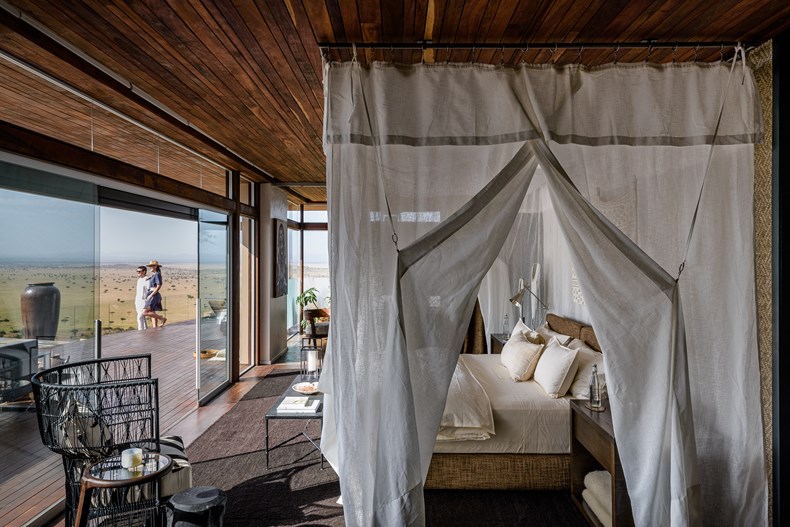 Immersed in the plains of the Serengeti, one is surrounded by an endless savanna; enfolded in abundant grasslands that stretch all the way to the horizon. It is only on higher ground that its vast expanse and undulating landscape can be fully appreciated, and it is on one such vantage point that you will find the new Hillside Suite at Singita Sasakwa Lodge. This romantic retreat, designed as a private villa for two, takes full advantage of its secluded location, offering guests privacy and solitude in an atmosphere of barefoot luxury.
This breathtaking setting overlooking the plains below informed much of the design, which features dramatic, frameless glass doors and windows, spacious, double-volume interiors, two wooden outdoor decks, a private rim-flow pool and Singita's signature 'bar-deli' filled with delicacies.
Hillside Suite has all the trimmings of an exclusive hideaway – a private access road winds its way to this oversized suite where couples enjoy everything from in-room dining and spa treatments to a private game vehicle, Field Guide and host. The pace of each day is set according to the guests' interests and frame of mind, allowing total flexibility over mealtimes and activities. Given its sweeping views of the magnificent scenery and plentiful wildlife of the Serengeti, guests can immerse themselves in the surrounding wilderness and be enthralled by incredible sunrises, stargazing and the luxury of absolute tranquility. With every whim catered for intuitively, Hillside Suite embodies a contemporary safari experience unlike any other. It is the ideal place in which to find a profound connection with nature as well as each other.