The New Chikwenya Opens in Mana Pools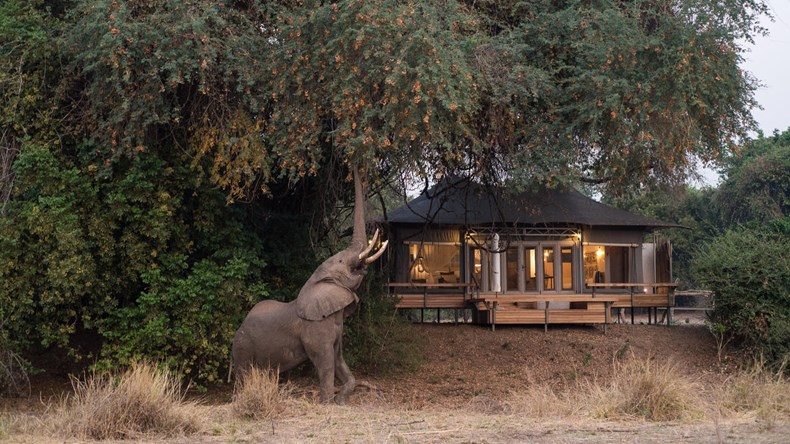 Together with local Zimbabweans, including John Mapondera and Joe Wright from Capmount Lodges, Wilderness Safaris is thrilled to announce the opening of the new Chikwenya Camp. Situated in a private concession in Zimbabwe's majestic Mana Pools National Park, the elegant camp is perfectly set at the confluence of the Sapi and Zambezi rivers, overlooking an open albida floodplain and Chikwenya Island – a true photographer's paradise.
The camp is designed to take advantage of the spectacular views of the Zambezi River and the Rift Valley escarpment beyond. Six luxurious tents feature sunken seating on the outdoor decks and gauze doors that open across the front. The option of an outdoor shower give guests the opportunity to enjoy the outdoors and the cooling breeze coming off the river.
Interior designer and owner of Profurn Contracts, Tanja Beyers, said, "From the moment I arrived at the Chikwenya site three years ago, I was inspired by the raw beauty of the camp's exquisite setting overlooking the Zambezi River. We therefore made sure that the new camp features numerous relaxation areas to take advantage of these spectacular views". Tanja has created an environment that captures the essence of the natural surrounds.
Numerous handcrafted elements were also brought in to celebrate local art and culture, including handcrafted timber daybeds with turned legs and beaded chandeliers for the main lounge; 15 000 individually hand-rolled clay beads and 7 000 discs were made for this project, benefitting 34 families from the income generated.
For more information on the wildlife experience at Chikwenya, click here.