The heart of Selous Safari Company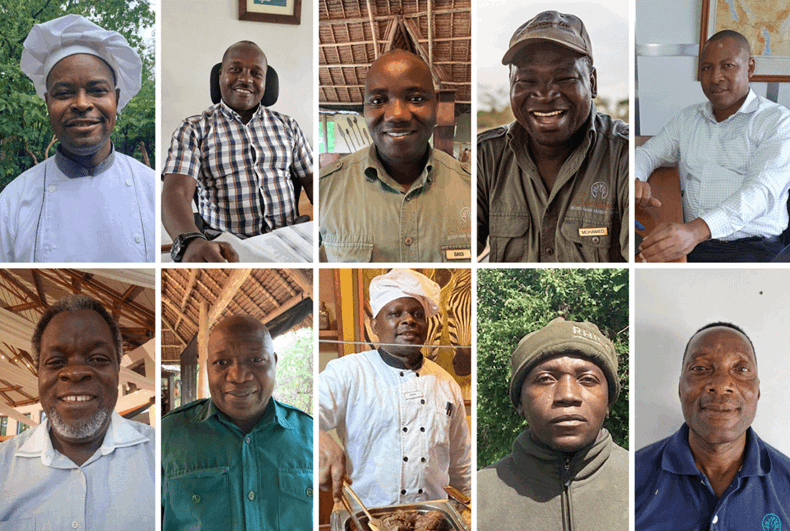 Selous Safari Company (SSC) was established in 1988. Thirty-four years later we are raising a glass to ten of our amazing team members who have been part of the team for over 20 years. Collectively these incredible ten individuals have clocked 253 years of service all together.
Mwalimu Ally, Head Chef at Siwandu has been with us the longest. With over 29 years of loyal service, Mwalimu knows everything about running a kitchen, far off the beaten track. With finesse and creativity, he impresses our guests with delicious meals. David Benjamin has been an office assistant based at our head office for 28 years. He makes sure our documents, goods and parcels are delivered where needed. Ndawai Divai joined the maintenance team in 1992 at Ras Kutani, one of SSC's original beach properties. In 2020, Ndawai joined the Rhino Lodge team. With 28 years of experience, he is game for all the challenges that involve maintenance.
Mohamed Muhunyunga is an incredible safari guide and has been with us for over 27 years. Mohamed is one of our most experienced, senior guides at Siwandu. Festus Njogoro is the backbone of SSC. Without him we are not really sure how we would survive. He is our General Manager's right hand and has his pulse on everything that is important. Festus has been with us for 27 years. Hassani Kitimla has been looking after our guests at Siwandu for over 25 years now, making sure that they are safe when they move around the camp. He loves striking up conversations with our guests during this time.
Said Issa Mkumba is the trainee assistant camp manager at Siwandu. Over the years SSC has noticed his great potential and started training him for a managerial position. Said makes sure the camp runs smoothly. Twenty-two years ago Nickson Mtambo joined our team as a young graduate. He takes care of the daily maintenance of SSC's accounting records and helps to prepare financial management reports. 
Mashaka Juma, our Head Chef at Rhino Lodge, is a passionate cook. In the past 29 years he has led the kitchen teams at Ras Kutani, Jongomero and Siwandu. When Rhino Lodge was added to the SSC portfolio he was appointed as Head Chef and has impressed our guests by scoring rave reviews for his delicious buffet meals. Everyone is fond of charismatic Emiel Mkwizu, our Relief Manager. With a wealth of knowledge of daily operations at all our camps, Emile leads, teaches and coaches the camp teams, greets and briefs guests, and inspects rooms and grounds. A real people's person, Emile loves to interact and host guests. 
We are extremely proud of our team and believe in one big happy family. Without them SSC would not be the company it is today. We'd like to thank them for their commitment and support during the past twenty to thirty years.
Read our full article here.