The Greatest Maasai Mara Photographer of the Year (1)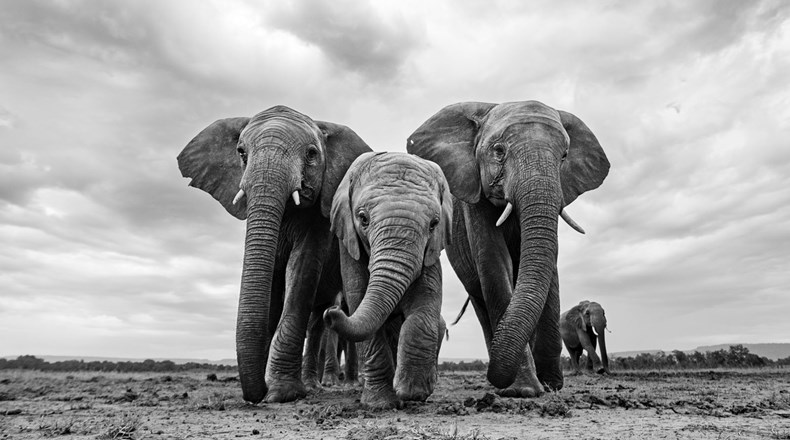 The Angama Foundation is proud to announce Anup Shah as the winner of The Greatest Maasai Mara Photographer of the Year 2018, for his image titled "Escort", of a baby elephant boldly walking between cautious adults.
Anup's image was selected from 10 finalists, and he wins a five-night safari for two at Angama Mara (including return flights from Nairobi) and US$ 10,000 in cash.
The competition ran from January through October 2018, and received close to 1,000 outstanding entries over the course of 10 months. Acclaimed wildlife photographers Art Wolfe, Federico Veronesi and Adam Bannister judged the entries, and Federico described the winning image as a "Great composition of three young elephants walking towards the camera, captured from a dramatic low angle. An impeccable composition enhanced by the adult elephant in the distance, and a beautiful moment."
A Suzuki Maruti Gypsy for the winning photographer's guide was won by Sammy Ngotho of the Wild Eye Mara Camp, as Anup – who drove himself – kindly offered this prize to the guides of the other finalists.
The Greatest Maasai Mara encourages the creation of beautiful imagery to showcase the Maasai Mara as an all year-round wildlife destination, raising the profile of wildlife photographers and supporting conservation initiatives in the process. The top entries from this year will be shown at exhibitions in Nairobi, Seattle, Cape Town, Melbourne, Dubai, Brisbane and Atlanta, in partnership with specialist African tour operators.
Each entry included a donation to a conservation partner active in the Maasai Mara, and in total US$ 16,650 was raised for the Anne K. Taylor Fund, The David Sheldrick Wildlife Trust, the Maa Trust; the Mara Elephant Project; and the Mara Conservancy.
Entries reopen on the 1st of January 2019, with US$ 10,000 in cash and a five-night safari for two at Angama Mara on offer for the winner. Entries must have been taken within the Maasai Mara in the preceding 12 months of submission, and next year's judging panel also includes renowned photographers Nisha Purushothaman and Michael Poliza.
For more information about The Greatest Maasai Mara Photographer of the Year, or to enter, please visit: thegreatestmaasaimara.com.