Step inside the brand-new Singita Kwitonda Lodge and Kataza House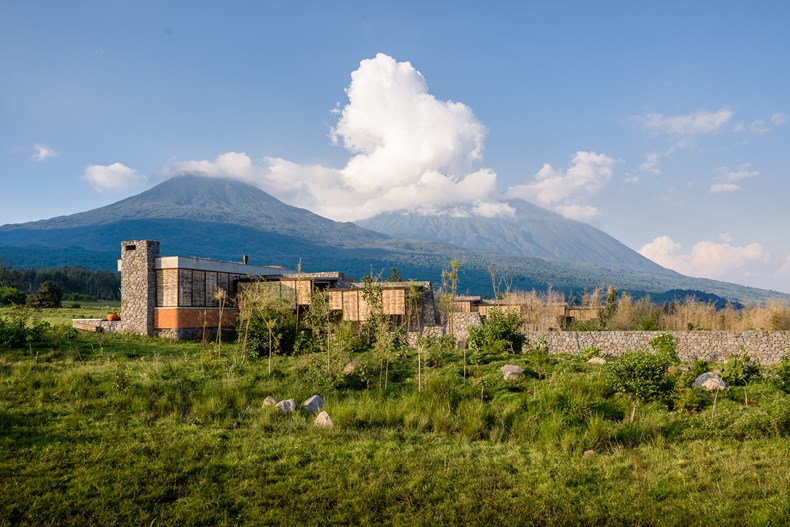 The opening of Singita Volcanoes National Park marked the next exciting chapter in our ongoing conservation journey in Africa. The eight-suite Kwitonda Lodge and exclusive-use villa Kataza House enjoys an unrivalled location right on the edge of Volcanoes National Park, where a third of the world's remaining mountain gorillas find refuge.
Arguably built as one of the most sustainable lodges on the continent, Singita Volcanoes National Park honours Rwanda's people and its fertile land by touching lightly on the land, while contributing significantly to conservation, community partnerships and ecotourism.
The lodge and villa take their cue from Rwanda's rich cultural heritage and the enormous responsibility of protecting the strong, yet vulnerable gorillas. Mirroring the powerful imagery evoked by these magnificent, gentle creatures, the décor reflects their plight with ease and simplicity, resulting in spaces that are both bold and embracing.
Singita Volcanoes National Park was created in response to its dramatic setting and guest suites include private heated plunge pools and massage areas, as well as in- and outdoor fireplaces. A dedicated Conservation Room, Gear Room, on-site nursery and vegetable garden providing fresh produce for the lodge's farm-to-table food journey further enhances this unique offering in Rwanda.
Singita's primary motivation for operating in Rwanda is to play a key role in the conservation of the gorillas in the Park. To this end, the company committed to extensive reforestation initiatives in the area, helping to increase their range and numbers. The lodge also puts gorilla-trekking experiences within easy reach and is situated less than ten minutes from the Park's headquarters.