Some Seriously Cool Safari Style and Soul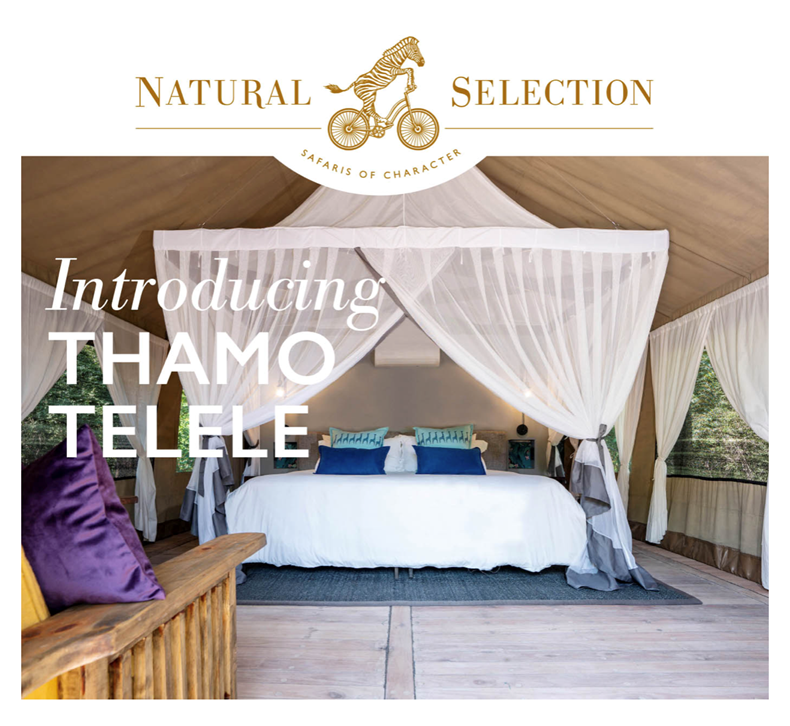 THIS NEW LODGE IN MAUN, PREVIOUSLY KNOW AS ROYAL TREE LODGE, HAS SOME SERIOUSLY COOL SAFARI STYLE AND SOUL.
Thamo Telele is a 250-hectare private game reserve on the outskirts of the iconic safari town of Maun with an enviable location bordering the Thamalakane River. Not only is Maun the gateway for travel into the Okavango Delta, but this country town with its fascinating people and quirky culture has blossomed into a tourism destination in its own right. 
The lodge itself is set amongst a lush forest of old growth leadwood, bird plum and acacia trees. Each suite and chalet is a little bush haven, wrapped around the peace and tranquillity of this beautiful forest area. 
Thamo Telele having just undergone an exciting refurbishment, is warm, relaxed and colourfully quirky. Expect new giraffe themed interiors, air-conditioned rooms, beautiful bathrooms, outside showers, a cool bar and lounge area for sundowners and best of all a refreshing pool for a little sundeck and solitude.
This is the ideal stop-over either side of your safari! 
A great place to relax and rejuvenate, here you can enjoy nature-based activities which include close encounters with our resident giraffe herd, horse rides, birding, nature walks, a local cultural tour and mountain bike rides. 
One of the most captivating things about the lodge is its resident herd of 20 giraffe, which you can observe while on activities in the reserve and most enthralling get up close and personal to in the morning and evening while they feed at the waterhole. There are even naturalists on hand to tell you all about these fascinating animals, including giraffe conservation issues throughout Africa. This is a very special experience and one that we at Thamo Telele are particularly excited about!
In fact, the lodge was named after our littlest resident giraffe, born during our refurb in 2021. Surprisingly tall from birth, she was soon called Thamo Telele, meaning 'long neck' in Setswana. As we observed her growing day-by-day, she captured our hearts in such a profound way, that we decided to rename our 'new' lodge after her. 
And as she continues to capture our hearts, upon arrival, she'll be waiting to welcome you to this very special place in Maun she calls home. 
For all enquiries and to find out more contact
[email protected]
+ 27 21 001 1574
www.naturalselection.travel