SNEAK PEAK: Mila is now open in the Mwiba Wildlife Reserve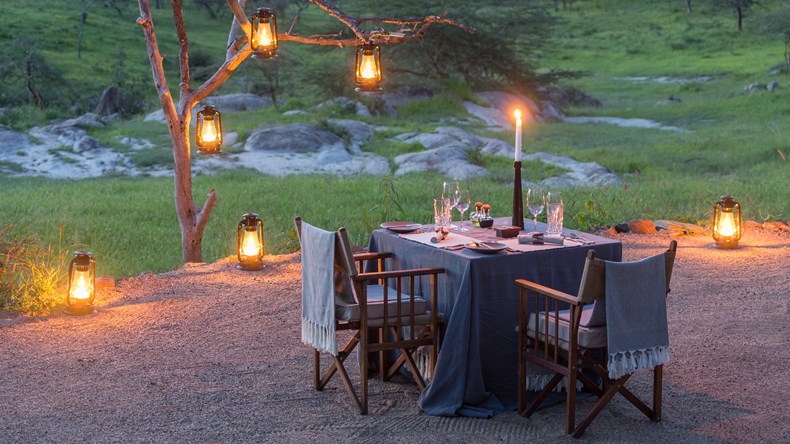 In the month of December, Legendary Expeditions opened their doors to a new soulful, tented experience in northern Tanzania...
Mila is located in Mwiba Wildlife Reserve with access to over 125 000 acres of wilderness adjoining the Serengeti ecosystem. A short 10-minute drive from Mwiba Lodge with easy access from Mwiba Airstrip, Mila will offer guests the freedom of a tented camp experience combined with immersive cultural interactions and classic safari memories. 

This is a playground for personal journeys beyond imagination. Add a night of fly-camping for a truly Out of Africa experience, walk alongside the Hadza, dance with the Datoga and enjoy privately guided morning, afternoon and night game drives. Bush dining and sundowners overlooking the wilderness, as well as newly introduced helicopter tours, create opportunities to truly explore...
'We are excited at the imminent arrival of the new tented camp, Mila. Our purpose is to create one of the very best luxury tented camps that offers synergy and diversity to our existing portfolio of authentic, connected experiences. Mila perfectly complements our mobile camps, Legendary Serengeti North and West, in an itinerary. The aim is to welcome guests into the heart of a safari experience where they not only feel connected to the soulfulness of the wild, but also to the people who call it home."
~ SEAN CLARK, Director of Sales & Marketing
[email protected]
QUICK FACTS
5 double tents
1 family tent (2 bedrooms & a lounge)
Max 14 guests
Rollaway bed (under 14yrs; 3 available)
3 dining & lounge tents
Access from: Mwiba Airstrip 
All ages welcome
Private guide & vehicle with every booking at Legendary's camps
Cultural experiences with the neighbouring Hadza & Datoga
Complimentary arrival & departure transfers to/from Mwiba Airstrip
DESIGN INSPIRATION
Inspired by the freedom of the tented experience of Legendary Serengeti Mobile, Mila is differentiated through its honey-coloured design and organic layout molded to the landscape. One of the pivotal tribes to the reserve is the Hadza. Known for their love of honey, we have chosen honey tones to connect Mila to both the culture of the area, the natural hues of the Tanzanian bush and the palette of Mwiba Lodge. From the moment you arrive, you find yourself connected to the world all around you. 

Below the camp are abundant natural springs dotted throughout the area. These sources of water create exceptional wildlife viewing. Each tent faces a unique direction to maximise privacy and sighting opportunities. The main camp areas overlook an active spring with spacious living areas and outdoor dining to relax beneath the towering trees and feel that inexplicable peace of the bush.

DOWNLOAD MILA LAYOUT & ACCESS
IMAGES COMING SOON