Small World Marketing Collaborates with Three Industry Experts for an 'Introduction to Kenya' Webinar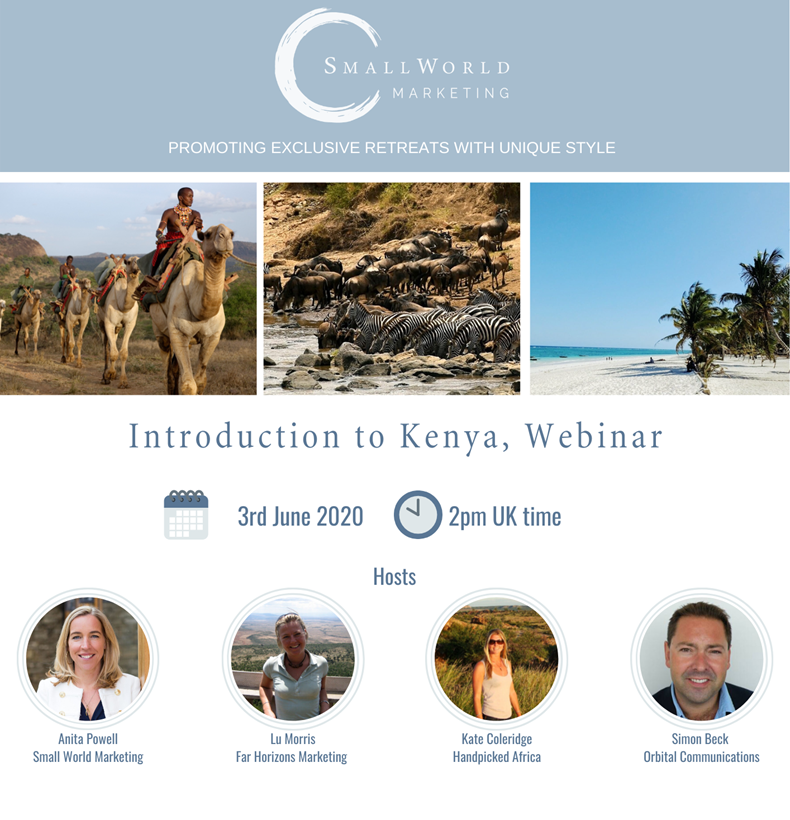 On June 3rd at 2pm (BST) Anita Powell from Small World Marketing will be co-hosting an 'Introduction to Kenya' with three other destination experts: Lu Morris from Far Horizons Marketing, Kate Coleridge from Handpicked Africa and Simon Beck from Orbital Communications. 
The 45-minute long presentation will provide you with an overview of 4 of Kenya's most popular areas and how they work well as an itinerary including: Nairobi, Laikipia, The Masai Mara - Reserve & Conservancies & The Kenya Coast. Register to hear 4 travel industry experts' unique perspective and helpful sales tips to provide you with the perfect toolbox to help sell Kenya.
Please head to the following link to register https://bit.ly/Kenyawebinar2020. 
The presentation will last around 45 minutes with a Q&A session afterwards. 
All Small World Marketing webinars are uploaded to Youtube http://bit.ly/SWM_youtube. Feel free to subscribe!