Sierraously Surprising Invitations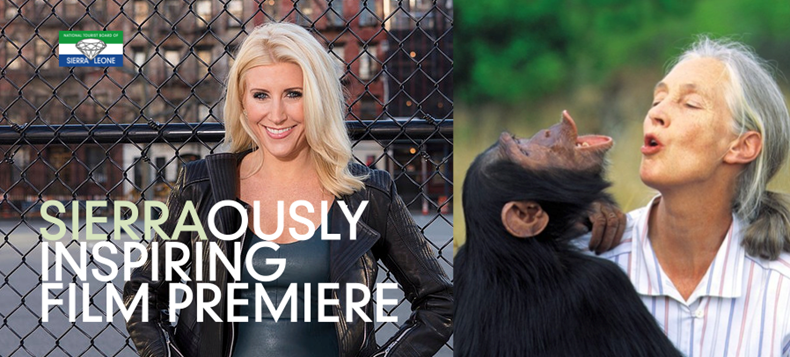 Sierra Leone invites you to attend a film premier in Leicester Square and to meet them at WTM, too.
In February this year, Dr Jane Goodall visited Sierra Leone, casting an international spotlight on the country's Western Chimpanzee, mankind's closest relative. Dr. Goodall's three-day visit to Sierra Leone led to two major announcements: The declaration of the Western Chimpanzee as the national animal of Sierra Leone and the country will adopt a more open stance to tourism. Sierra Leone has since announced more than 150 countries citizens can enjoy the convenience of 'Visa-on-Arrival', a landmark policy change.  
Celebrated filmmaker-journalist Michaela Guzy captures these important moments in the country's history with the release of a mini-documentary film, which is a finalist in The World Wildlife Film Festival in New York. The Vue Cinema, Leicester Square, London WC2 on Tuesday 5th November from 6.30pm
Come, see, and hear how this remarkable change came about and what it means for Africa's newest tourism destination at our exclusive UK premiere screening of the fill. As with all good premiers, the film is followed by a Q&A, complimentary drinks plus tasty and authentic Sierra Leonean canapés.
Sierra Leone is exhibiting at this year's WTM, with the Honourable Minister for Tourism, Dr. Memunatu Pratt in attendance, along with senior representatives of the National Tourism Board, as well as some excellent Sierra Leone DMCs and property owners.

Take a few minutes of your time to meet with them to learn more about what has proved to genuinely be a sierraously surprising destination - with its blend of beaches, culture, history and wildlife.