Sabyinyo Silverback Lodge Guests Helping To Make the World a Little Brighter.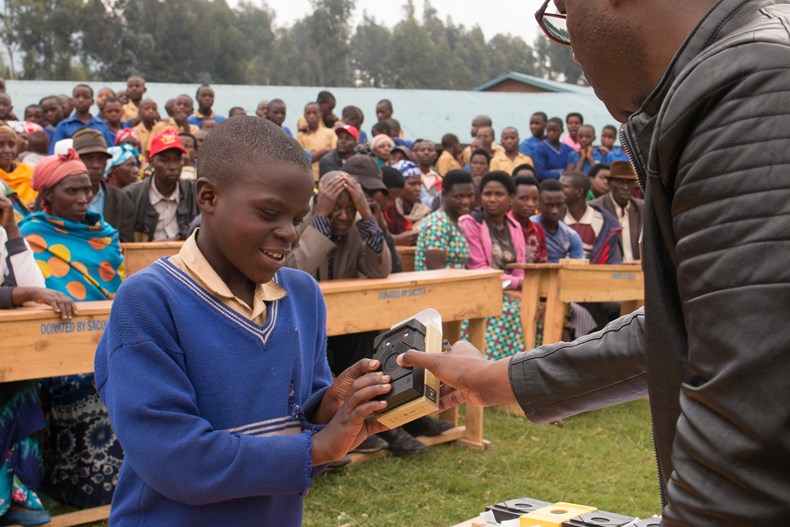 Governors' Camp's Sabyinyo Silverback Lodge was built 10 years ago as a uniquely community-owned lodge next to Volcanoes National Park. With our partners African Wildlife Fund (AWF) and International Gorilla Conservation Program (IGCP), the SACOLA Community Trust was created to hold ownership of the lodge. Through lease fees and a Community Levy incorporated into a guest's stay, US$3.1 Million has been transferred from the Lodge to the SACOLA community in the last 10 years, providing them the means to achieve an incredible list of socio-economic projects.
Our guests are so often impressed by the positive impact of this beautiful relationship between tourism, community and conservation, they are inspired to make their own impact.
Margot Ragget was one such guest, and took it upon herself to fundraise £4000 to purchase solar lights for the community in December last year. This week, we visited 2 of the SACOLA community schools to distribute 400 lights to students at each school. The school management determined that the students who were completing their national examinations this year should be the ones to receive a solar light, so that they are able to study at night. Another 76 lights were distributed to a community village that many guests will know from doing a walking visit there. Everyone were incredibly grateful for the simple gift of light.
To learn more about the SACOLA Trust and the wonderful work achieved, follow the link below.
https://www.governorscamp.com/responsible-tourism/responsible-tourism-rwanda