ResRequest and Peach Payments Now in Mauritius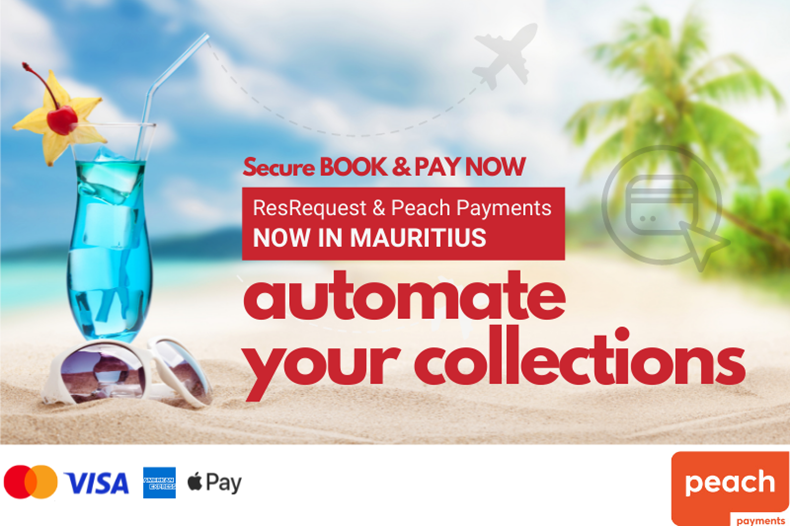 ResRequest & Peach Payments are now in Mauritius!
ResRequest is your all-in-one accommodation management software, whether you are a private resort or a boutique hotel. Peach Payment's payment gateway offers some of the lowest payment fees. Together they offer features to manage operations and payments.
ResRequest products & services
ResRequest is a Central Reservations (CRS) and multi-property Property Management (PMS) system. Online sales and front-of-house include a hassle-free integration to Peach Payments to make it easy for hotels to offer their customers book and pay now online, deposit payments, and settlement of outstanding accounts. 

Licensing includes Web hosting, support, CRM, dashboards, connections to over 50 Specialist Tour Operators, connections to Channel Managers: Siteminder, Nightsbridge and OTAs: Expedia & Booking.com, direct sales booking widget, interface to TallOrder Point-Of-Sale, accounting interface, guest surveys, and payment integration to Peach Payments.
More about ResRequest | Sign up
Peach Payment's services
Peach Payment's seamless, secure and time-saving online payment gateway integration with ResRequest, makes the payment for online bookings and check-outs easy and affordable.

With Peach's ResRequest integration, no-shows are reduced by implementing a Book and Pay Now option.

Peach Payment ensures secure payments so your guests are not inconvenienced with extra administration. Integration to ResRequest saves you time by managing the payment process. With the ResRequest interface, Peach enables you to confirm bookings once a deposit or the full outstanding amount is paid.
More about Peach Payments | Sign up