Pangolin Chobe Hotel now open!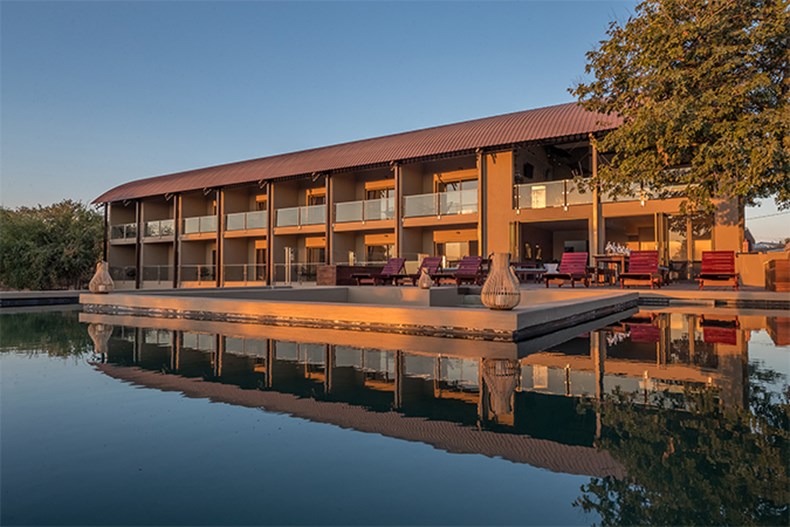 Pangolin Photo Safaris is proud to announce that Pangolin Chobe Hotel is officially open.
What's in a name?
When something is described as a lodge it conjures up images of a thatch and wooden structure with that same traditional building methodology that has been used for decades.  Co-owner, Guts Swanepoel's design uses the latest environmentally sensitive materials and progressive techniques found more typically in an urban environment.  So, it seems only fitting that the property be classified as a hotel rather than a lodge.
Different, by design
Located on a hill at the same elevation as Sanctuary Chobe Chilwero and straight up from the riverside Chobe Safari Lodge, Pangolin Chobe Hotel's setting affords sweeping views of the Caprivi and Chobe floodplains below.   Hosting a maximum of only twenty-eight guests at any one time the fully inclusive offering is replete with signature photo activities (boat and land), meals, park fees, drinks, transfers in Kasane aswell as camera hire and tuition.
Guests are also provided with an SD memory card to take away which, by the time they depart, is loaded with priceless impressions of their iconic African safari. In between activities guests can relax at the hotel and marvel at this modern building's masterful design.  The gallery's curated art collection is guaranteed to inspire.  
There's more
No trip to Botswana is complete without a visit to the iconic Okavango Delta.  Following a stay at Pangolin Chobe Lodge with one at Pangolin Khwai Camp and you have a wonderfully well-rounded safari experience of two iconic areas; Chobe and Khwai, respectively. 
Located in the vast 200 000 ha Khwai Private Reserve just one hour's fixed wing flight southward of Kasane lies a camp that is as charming as it is authentic.   Accommodating just twelve guests at any one time in a total of nine meru-style tents, there's plenty of room for single travelers. 
The offering is fully inclusive of all meals, drinks, safari activities, camera gear and photo tuition.  Here again, SD memory cards are provided for the guests to fill and take home with them upon departure.
By booking three nights at each property in one itinerary gets the single supplement for waived.    The offer stands for bookings travelling in 2018 and 2019.
A circuit is born
Gerhard 'Guts' Swanepoel and Toby Jermyn founded Pangolin Photo Safaris, Africa's premier photographic safari company, in 2011.  The company first made its mark on the safari scene by operating its inimitable photo boat safaris on the Chobe River and safari drives in the Chobe National Park. The safari activity is unique in that guests are offered the use of high caliber cameras, telephoto lenses and camera tuition during in the boat cruise or game drive, at no extra charge.  The customized boats and safari vehicles take no more than 8 guests at a time ensuring that the photo hosts can meet each client at their individual level of skill; from novice through to seasoned professional.   Now, these iconic safari activities form part of a full-service safari offering when staying at Pangolin Chobe Hotel. 
For more information about Pangolin Photo Safaris' circuit and recommended itineraries, please reach out directly.
For more information on Pangolin Chobe Hotel: http://www.pangolinphoto.com/pangolin-places