One of the best experiences to enjoy while in the Serengeti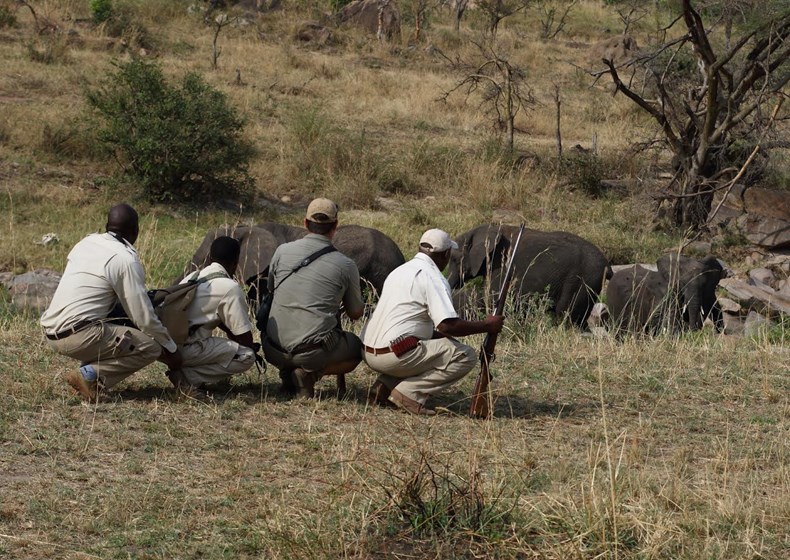 One of the best ways to explore Serengeti is on foot, where you will be accompanied by a professional walking Safari Guide whose knowledge of local flora, fauna, culture and history is unmatched.
Follow the spoor of a herd of impala or track a porcupine, identify a specific bird sound or the tell-tell signs that animals are close by. Savour the sweet smell of a local flower or learn the benefits that an indigenous bush has to the nomadic Maasai. There is no telling what you may see but it will certainly leave you with an experience you will never forget. Elewana Collection have a number of new trails to explore while staying at Elewana Serengeti Migration Camp, for those who enjoy the outdoors and adventure*.
Elewana Collection has invested heavily in our guide training. We train our current guides on a regular basis to ensure they are at the top of their field, in our continued efforts to make sure guests have a superior experience when they stay at an Elewana property. As part of our continued training, we recently sent a number of our walking guides to South Africa for six weeks to learn from leading professionals in the Industry.
Over the next two months Rudi and Nik, who are leading Guides from Royal Malewane travelled to Tanzania to continue the training with our Walking Guides. This is essential to our primary goal that Guests have an exceptional and safe experience with our Guides, while enjoying the wild expanse of the Serengeti.
*Note: Age restrictions apply to children under 16 yrs. All bush walks are subject to the discretion of the lead guide due to the nature of the activity.