On the weekend Sabyinyo Silverback Lodge celebrated its 10 year anniversary with much fanfare and festivities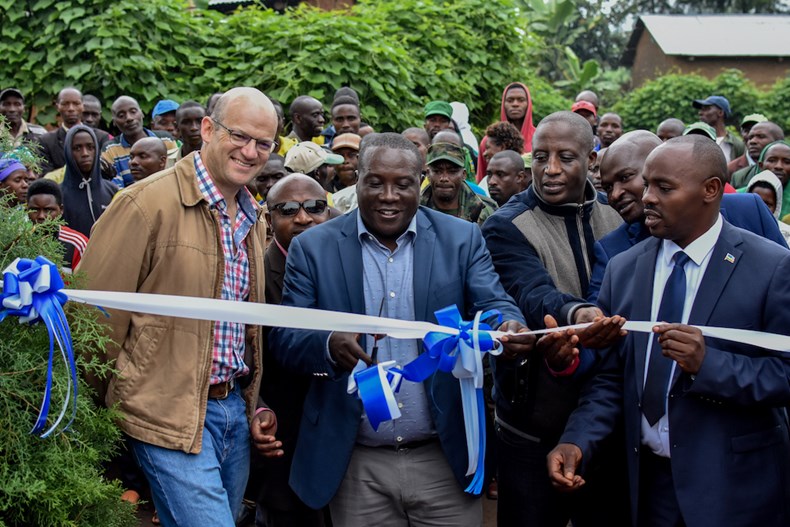 On Saturday Romi and Dominic Grammaticas, co-founder and MD of Governors' Camp Collection, were present as the SACOLA community unveiled their latest projects funded by revenue from Sabyinyo Silverback Lodge - 4 new houses built for widows of the Genocide and their families, 6 new school classrooms, and new water points making water available within a distance of a kilometre for up to 1000 people.
On Sunday we hosted a large event attended by thousands of community members. We were honoured to have the Governor of the Northern Province Gatabazi speak on behalf of President Kagame, and enjoyed inspiring speeches from Kaddu Sebunya, President of African Wildlife Foundation, and Mark Nkurunziza, CFO of the Rwanda Development Board. All spoke of the great importance of revenue-sharing models in tourism to create greater reach and impact of benefits from tourism, thus encouraging community engagement in conservation.
Amongst our honoured guests were the US Ambassador to Rwanda Hon. Peter Vrooman, USAID Acting Mission Director Peter Sahn, Craig Sholley of African Wildlife Foundation, Felix Ndagijimana, Director of Rwanda Programs and Ildephonse Munyarugero from Dian Fossey Gorilla Fund, Anna Behm, Rwanda Director of International Gorilla Conservation Program, and Jean Bosco from Gorilla Doctors.
We were also joined by 11 of our key travel agent partners from the USA who had joined us on a FAM trip, enjoying Kenya Airways inaugural direct flight from New York to Nairobi.
Sabyinyo Silverback Lodge demonstrates the perfect intersection between conservation, community and commerce. Managed by Governors' Camp Collection, the lodge is wholly-community owned via a trust called SACOLA. As we celebrate 10 years since official opening, the revenue earned by the community from the lodge is approaching $3.3 Million, and is invested in development projects to uplift the community, such as housing, infrastructure, schools and small-scale businesses.
We have a profoundly beautiful 13-minute movie coming soon, highlighting the Governors' Camp commitment and the hard work of SACOLA over the last ten years, protecting the future of Mountain Gorillas by empowering the community and making them custodians of Volcanoes National Park. Watch this space for the movie!