No 5 by Mantis launches Exclusive Art Tours in Port Elizabeth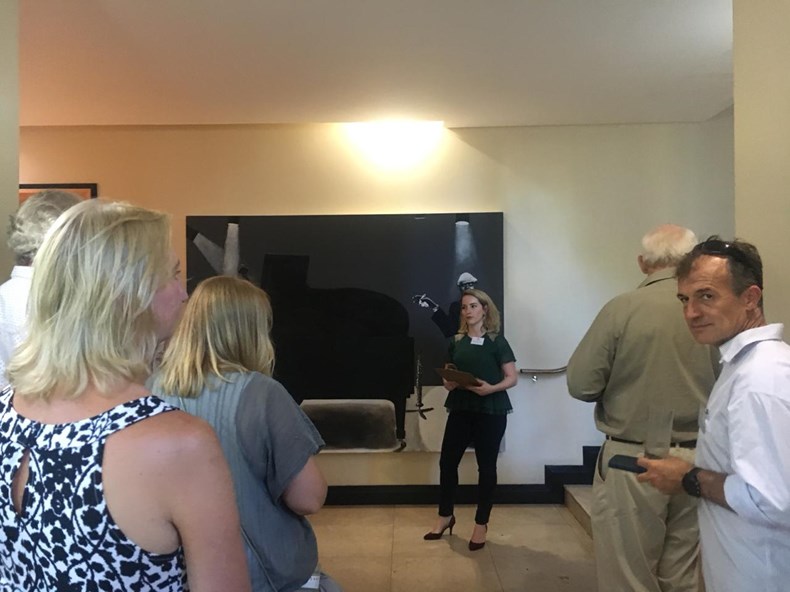 On Tuesday, 5th February, Mantis launched Exclusive Art Tours at No.5 by Mantis. Attended by the media and prominent figures in tourism, the art tour launch featured a presentation by local artist, Duncan Stewart who is the only artist featured in the 2010 Villa which is annexed to this prominent boutique hotel on Brighton Drive in Summerstrand.
Duncan Stewart gave guests some insight into the workings of creative minds and also a tour of his collection at 2010 Villa which pays homage to the hope the 2010 World Cup brought to the impoverished communities of Nelson Mandela Bay.
The art at No.5 is the personal collection of owner and Chairman of Mantis. Adrian said that "he start collecting art over 30 years ago and the early days of my art collection were relative to the history of Africa and one of the biggest collections of art about Nelson Mandela Bay. The art at No.5 by Mantis includes these artworks as well as contemporary artists; especially those South African artists who did not receive recognition in the apartheid era. We showcase all categories of art which depict the history and the art deco theme of No.5 by Mantis which is especially visible in the furnishing as I consider it to be part of the art experience. A lot of the art at No.5 came from a single gallery in Cape Town. We received a truckload and discovered it was very fitting of what we were trying to accomplish and sent only one piece of art back to the gallery. We love art at Mantis; it is an integral part of living in our magnificent hotels."
With over 200 works of art comprising of paintings, photography, sculptures, and installations; It is no wonder No.5 by Mantis is described by so many as a living art gallery. "Our guests often comment on how beautiful the art is, and we often see guests transfixed in our hallways, restaurant, cinema and whiskey bar; admiring the latest masterpiece to catch their eye. It is this very reason that we decided to share this exclusive experience with art lovers in and around Port Elizabeth" said General Manager, Tracy Lancaster.
The art tours were conceptualised by Tracy Dergoumois of Outside the Box Marketing, and together with the team at Mantis have opened No.5's doors to art lovers in an intimate launch of the exclusive art tours. The Exclusive Art Tours at No.5 by Mantis are available to the public and include lunch and a glass of wine.